With the recent (hot / cold / inbetween) weather I've found myself leaning on my capsule wardrobe pieces more and more. When it comes to dressing the easiest thing seems to be taking it back to the basics. It's also something I get asked about a lot so I wanted to dedicate this post to my four spring/ summer wardrobe essentials that I live in day in, day out. For me that's a few key items that are always on rotation (in some form or another). I tend to update them throughout the seasons but I have been wearing them for years and will continue to do so on the reg! I'm a firm believer of investing in those core pieces that you feel good in & that you wear over and over again & then you can add your trend led pieces into the mix each season. They don't have to be super high end or designer just what suits you and your style. I have no problem in buying a few white t-shirts for example, I wear them all the time & I know that a white tee will never be a stupid buy. In the past I have been known to buy too heavily into a seasonal trend but it's makes more sense to spend more on, or buy more of your basics that you wear all the time. Plus capsule basics are always a starting point for your new season pieces.
Come winter, my capsule wardrobe is padded out with cashmere, knits, coats & boots but for now here are my most worn spring / summer essentials (as I'm sure you've probably seen!)

H&M leather jacket (similar here) | Stories tee  | Asos cami (similar here) | Gap jeans | Gucci bag from Vestiaire Collective (similar here) | Topshop shoes (similar here)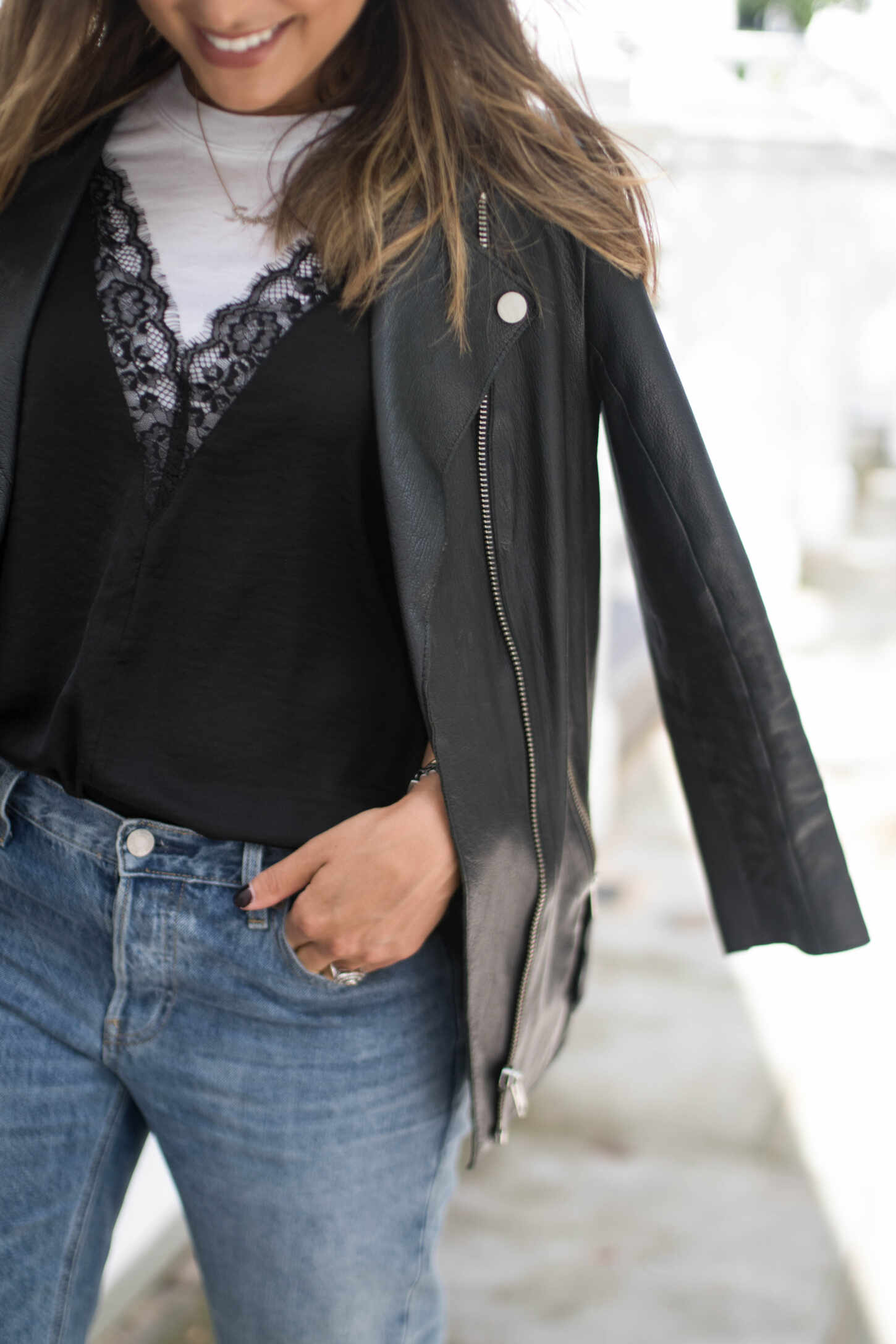 T H E  L E A T H E R  B I K E R  J A C K E T 
I honestly believe everyone needs a leather jacket in their life; they are one of the most versatile items in any wardrobe and there are so many occasions to fling on that leather whatever the season. I wear mine all the time (right now, it's my go to then it rains, on a night out & robed over my shoulders on my morning walk to the station, too many to name!) This one is about 8 years old from H&M and sadly no longer available but most high street stores do real leather pieces alongside their faux leathers. I would definitely recommend real leather when buying a leather jacket, it's so worth it. The cut is often better, it looks much more expensive & if you get a shape you love it will stand the test of time (as you can see!) In terms of shape I would invest in a version of the biker style, they are always on trend & won't date. Mine is quite slouchy & a little boxy which is great for robing over the shoulders & adding to a mix of silhouettes, from jeans, to dresses, to skirts.  In the colder months it's still on rotation but layered under knits and scarves or even worn under a slouchy boyfriend coat. I almost always travel in it as well!
T H E  W H I T E  T E E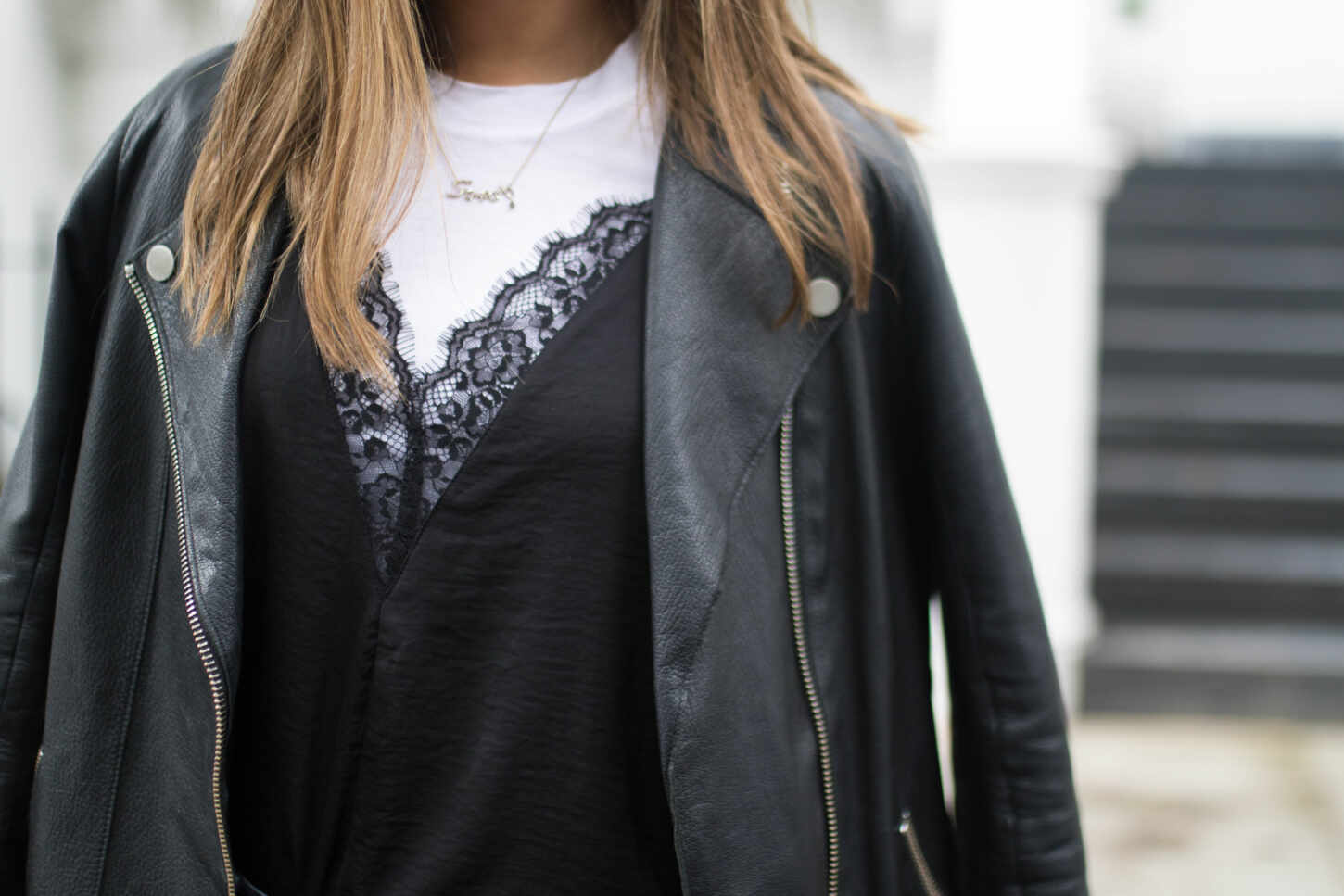 I don't think my wardrobe would survive without a few good white tees. I literally live in them, under blazers, dresses, tucked into jeans, tied into a knot with skirts, I'd go as far as to say I wear a white tee a few times a week in some form or another. I also get them dirty as much so have quite a few in my wardrobe as I'm really clumsy! My favourite place for tees is & Other Stories, their selection is so vast & whether you want something slinkier or boxy, linen or cotton, round neck or scoop they have it all & in every colour. Style wise I prefer a high neck or a v neck and something with a little give in it. I love the linen mixes for summer as they are super light and something on the tighter side when layering under things as I hate that bulk around the middle you can sometimes get when tucking in.
T H E  B L AC K  C AM I

Another one of my live in pieces that is always on the go is my black cami. I hate tight vests worn under things & I love the way camis drape and tuck into anything. This style is trimmed with lace & has been worn quite a few hundred times day & night! In the evening it's my favourite under blazers or tucked into high waisted trousers but I also love it worn under tees & dresses for the day time as well. A plain black cami is equally as useful but for me I always seem to grab this one when looking in my wardrobe!

T H E  G O  T O  J E A N S
As I spoke about in Monday's post I have fallen out of a love with my skinny jeans (!), maybe it's just me, but there's something so easy, comfy & chilled wearing a slouchier style & I find them much more flattering for tucking in tops & shirts. This season & last my go to has been the 'vintage slim' from Gap. So much so I have bought three pairs ( Gap always has amazing sales and I bought some extras for £10!) they are in slightly different lengths so I can wear heels & flats. My advice would be if you find a pair of jeans you absolutely love don't be scared to buy them a couple of times or in different washes, you won't regret it! Plus if they're in the wash you don't have to be without them as you have a back up!
Shape wise, the cut of the leg is really flattering, they are tight at the waist and hips & go straight down from the hips with a little kick out at the bottom. For me they are the best silhouette ever invented & I really haven't seen this cut anywhere else! I live in mine (as you can probably tell!)