Who's with us when we say that we've eaten enough chocolate over the past few days to feed a small army?! We've taken indulging to a whole new level and we've enjoyed every millisecond! Mini eggs, cream eggs, Lindt bunnies you name it, we ate it!  So after a blissful weekend full of sugar highs it's time to get back on the healthy bandwagon and feed our body with the good stuff! We've both made sure to start the day off with a homemade juice, Philippa is all about the beetroot, carrot and ginger and Sarah's green dream is the one- spinach, cucumber, avocado, kale & ginger.
With healthy habits on the brain (and being all about balance!) we thought we would share our favourite healthy hotspots in London. You can often find us starting off the day with a breakfast meeting in one of these, at a girlie brunch on the weekends or even dragging our hubs along for a Sunday snack.
Scroll below the the places we're loving at the mo for all the good stuff:
Located in the heart of Notting Hill this restaurant is worth the potential lengthy queue. (Our top tip get there early to avoid the rush.) First things first the menu is out of this world, even for those that aren't into the healthy vibe (e.g our husbands) everything on the menu is utterly delicious. We recommend cleansing the palette with a Fire Starter shot (ginger, turmeric, cayenne & lemon!) followed swiftly by one of their amazing lattes and without doubt the pancakes. You wouldn't even know that they are GF & DF the taste is out of this world. Aside from their pancakes their earth bowls are also outstanding – filled with all sorts of goodies like quinoa, veggies & falafels. It's one of our favourite weekend haunts plus there's a Planet Organic just a few shops down for more good eats!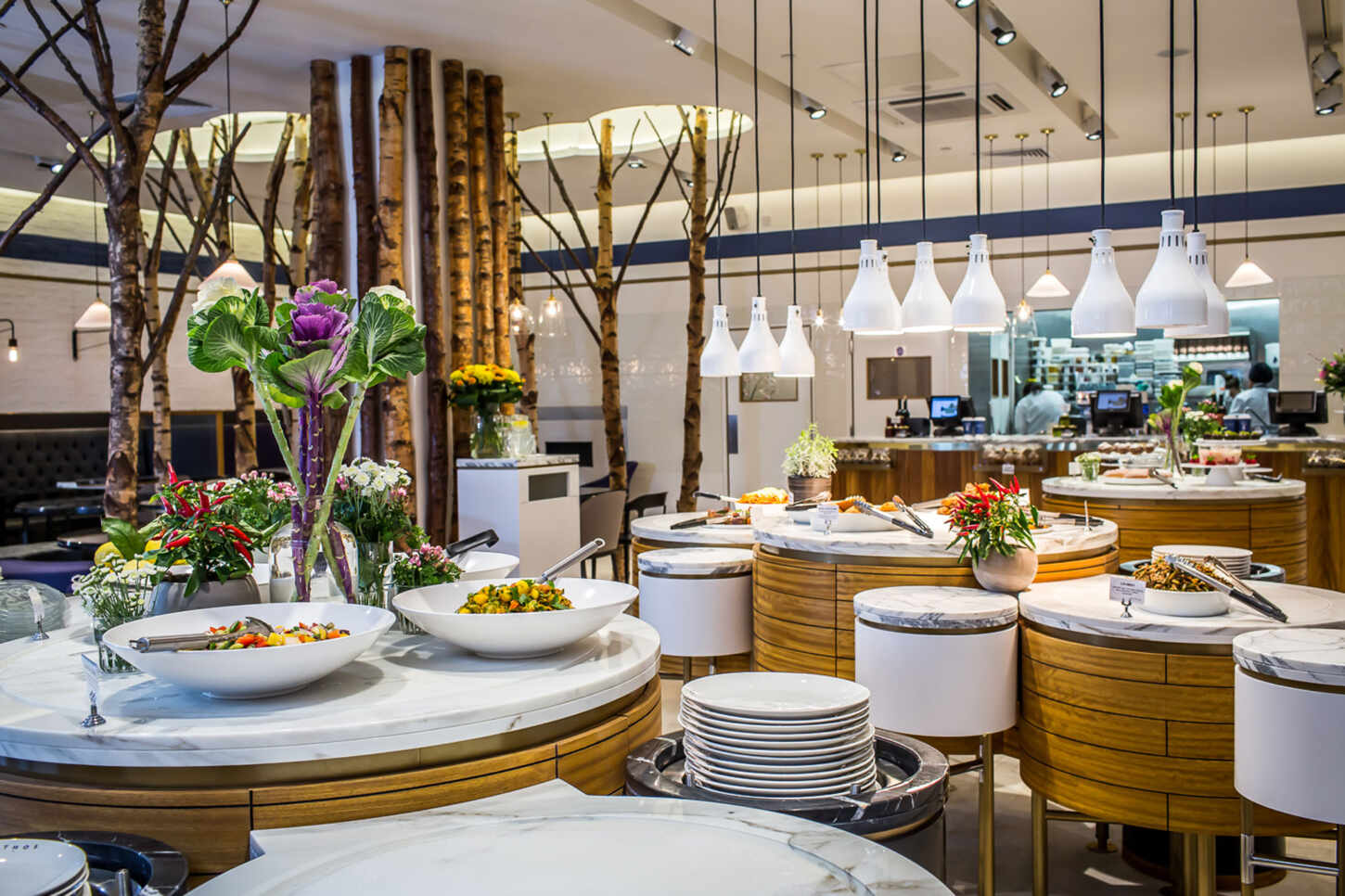 Positioned a few minutes away from Oxford Circus this vegetarian restaurant is one of our loves when it comes to healthy lunching. It's self service style where you are free to fill up your plate with the goods and then simply weigh, pay and dine. (Be warned an overloaded plate = a hefty price tag; but when food tastes this good it's worth every penny!) Our star salad is the broccoli salad – pass no comment until you try this dish, who knew broccoli could taste so good?! Even if you're not vegetarian this restaurant has loads of hearty foods on offer including lots of hot dishes (think curries & stews) and not to mention desserts to finish off your palette!
This is another one of our central London loves and we promise you will be fulled to perfectection when you leave! It's another pick and chose spot which we have grown to love. We usually pick one main (hello salmon burger!) with two or three salads to go alongside it (the butternut squash and quinoa salad is the one) or even select a ready made one from the fridge if we're short on time. We love the fact that it's wheat, caffeine, red meat, sugar and dairy free but trust us you would never know it. We're pretty confident we've tried most dishes on the menu and we haven't found one we don't love. Don't get us started on the selection of sweet treats! All we're saying is brownies…..
Within Selfridges this gem is the perfect pitstop for a juice or a  clean-eating lunch. One of our favourite Friday afternoon treats is a cheeky blowdry at Daniel Galvin (which is situated next door) and then a yummy, healthy, organic lunch.  The restaurant is small so again it pays to be early, but the food is soooo tasty. For brunch we are all over the cinnamon banana bread…need we say more! For lunch the quinoa and roasted veg salad is our go to and is super filling. Next time you're having a shop up, here's your new lunch stop!

This is a recent addition to our fave healthy London eateries and is situated right near Bond Street station.  We love that you can chose from hot and cold dishes or even a bit of both. It's a similar concept to The Detox Kitchen where you can pick what makes up your bowl (you can select up four goodies for a jam packed bowl of deliciousness) and the offerings rotate on a regular basis. Just be warned choosing the four options is no easy task….