We love a little pamper or R&R and generally just taking a moment to sit back, relax and do things that make us feel good… who doesn't?! It's that time of year where it feels like everyone wants a piece of you, we're being pulled left, right & centre with deadlines, dinners & drinks and it all feels a bit much. So last weekend we took a step back & had a little think about the things that make us happy & put 5 of them into practice…
1) – S P E N D I N G  T I ME  W I T H  F A M I L Y

Last year in the build up to Christmas we took our Mums out for a girlie lunch, we had such a lovely day that we decided that we were going to make it a yearly tradition! So, this weekend we headed to the new Ivy Cafe in St Johns Wood for a gals lunch. We're very lucky that our Mums are friends, we all get on so well so it always feels like such a treat when we all get the chance to go out and spend time all together- which isn't enough! To start, we nibbled on prawn cocktails & duck salads, for mains yummy fishcakes, burgers & chicken salads & to finish a little pre birthday dessert for Philippa  (FYI it was an oozing, melting chocolate bomb – which we all dived into of course). We really recommend it there, they've got a great menu, fab atmosphere and we will definitely be heading back there soon!
2) – T R Y I N G  O U T  A  N E W  T R E A T M E N T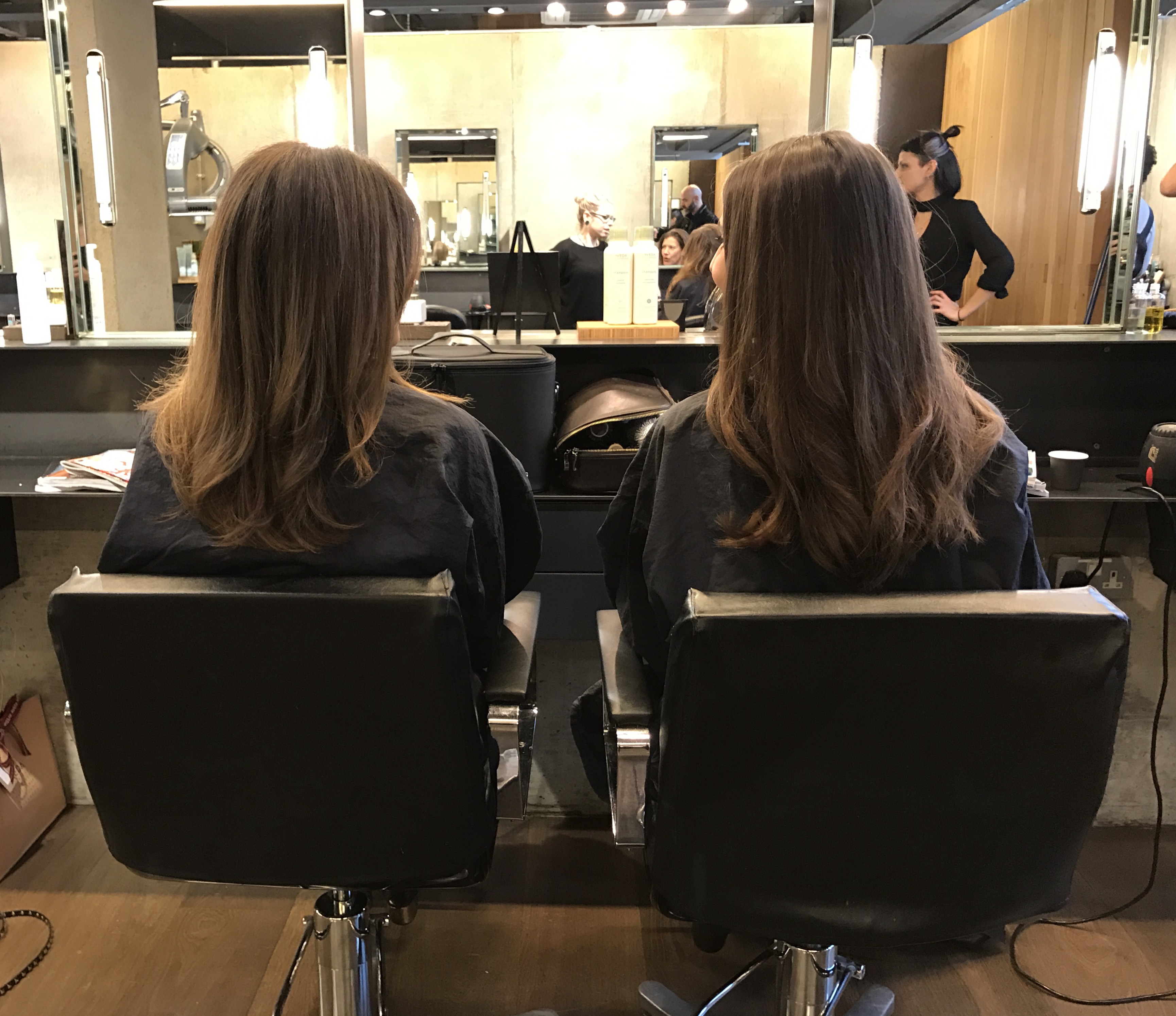 Our hair is feeling so dry and weak at the moment thanks to the mix of cold weather & central heating combo, we've been finding it hard to style and handle at the moment so we did a little research on the best nourishing treatments to help locks in the winter months. The Aveda Botanical Therapy for Hair & Scalp was highly recommended by an in the know beauty guru & so after work on Friday we headed to Aveda for a heavenly hour and a half and some fresh new locks. Aside from the gorgeous salon in Holborn (complete with Le Pain Quotidienne) we love the fact that all the products are plant based & natural. There's no nasty chemicals here. The treatment was amazing – like a spa for your head, we were massaged, moisturised and blowdried and we can definitely notice a difference in our hair. It really does feels silky smoother & healthier.

3) – T R E A T I N G  O U R S E L V E S  T O  S O M E T H I N G  S P E C I A L

Who says you can't treat yourself now & again? Well we're all about a little Christmas treat for ourselves, we work really hard & felt like we deserved an end of year treat… sometimes when we fall hard for something we can't get it out of our heads! Case in point these diamond necklaces from Stella & Dot's Covet collection. The fine diamonds are so beautiful and we love them worn alone or layered with other necklaces. The best bit is the price points, the diamond initial necklace & pave adventure necklace are both  £295.
4) – G I V I N G  O U R  H O M E  A  S I M P L E  L I F T

We're not talking about anything too drastic here, just a quick fix with some amazing luxury scents. For us, there's just nothing better than a nice smelling home & this is even more important during the festive period. Over the years we've developed quite an obsession with finding the perfect smelling candle and our all time favourite is Jo Malone Oud & Bergamot – if you haven't smelt it, we suggest you have a sniff at once! Last weekend we treated ourselves to a few newbies that were on our wishlist Lola James Harper – The Music Studio & Malin & Goetz – Dark Rum are our two new faves.
5) – R E L A X I N G  I N  S T Y L E
We're always banging on about cashmere; it's what we live in during winter months & this Jigsaw jumper has been our number one winter obsession.  Well, now we've got something bigger & better to share with you..the cashmere onesie. This is something spectacular, like a hug all over your body & an item we can't believe we didn't have in our lives beforehand! We know it's on the pricey side (although you could  buy some bottoms here or here and wear a cashmere jumper you already have for a cheaper suggestion) but we both vegetated in them all day Sunday (alongside a mountain of biccies) & it felt SO GOOD! It's going to be our new routine, Sunday's = onesie day!