Oh the capsule wardrobe…we've spent the past few years finetuning and working on it to make it the best it can be and now it's time to start looking after our much loved precious basics. As much as we love our high street buys there's something about having great (slightly more high end) basics that are the building blocks of our day to day looks. We're talking luxe cashmere for work & weekends, the perfect fitting wool trousers and white shirts for nights out or slouchy day time looks too. These key pieces are staples we wear time and time again and style up with some of our new season trend pieces like bright red boots, snake backless loafers or a (surprising) pink knit. We've come to learn the hard way that when you buy expensive things you've got to look after them and slinging them in the washing machine with your towels is not the way to do it!
In today's post we wanted to share our love for the capsule wardrobe, not only what to invest in but how to look after it…so say hello and welcome to our new best friends; our W1 washing machine and T1 tumble dryer from Miele but a little more on them later, first we want to share with you what makes the ulitmate capsule wardrobe:
T H E  W A T  W A R D R O B E  B R E A K D O W N
The striped knit – never far away from something stripy, a striped knit is a key player in our staple wardrobes. The cashmere polo neck style from Jigsaw and the boat neck piece also from Jigsaw are what we live in in the winter months yet we are always scared to wash them! Cashmere and stripes – eek!
The wool trousers – wool trousers are one of our workwear essentials, perfect for meetings and after work events (when our skinnies aren't quite right). We love the culotte styles of this L.K. Bennett pair and in camel they go with just about anything.
The silk blouse – a tricksy wardrobe staple that for some reason is an instant attractor to red wine, biro, coffee you name it; but we love it nonetheless! We like to wear ours half tucked with denims or layered under this season's double breasted blazer. Our ultimate fave is Equipments'  super sleek number in white, trust us when we say you need this in your lives. We're usually so put off buying silk clothes because of the dreaded "dry clean only" tag…that was until we found our Miele BFFE. Keep scrolling down to see why.
The white shirt – a more day time version of the blouse and another hardworking piece in our wardrobe. You know the drill, when you don't know what to wear throw on a white shirt type of thing?! We love our white shirt longline and boxy, cue this number from Acne that's perfect worn alone or under a classic crew neck.
The cashmere jumper – as you can tell from above we are partial to a little cashmere when the weather turns and we love the look of a pale cashmere jumper and our beloved ripped jeans. Our new fave is this Me & Em number in the palest pink.
The two tone trousers – as monochrome fans we own a lot of black things & a lot of white things as well as a lot of things that are a bit of both! We've endlessly spoken about our love for stripey knits but side stripe/ two tone trousers are a new surprising piece in our capsule wardrobes. Our faves are this Me & Em pair which work great with trainers for the day as well as chunky heeled boots for the night. For something that looks quite tricky to wear, trust us when we say how versatile they are.
The expensive jeans – you all know we love high street jeans but sometimes you find a cut or a style that you just can't find on the high street. That's what these Frame jeans are about – there's just something about them which makes them do miraculous things to your pins!
Now onto the Miele W1 & T1, the new household heroes that have quite literally changed our lives. Gone are the days of being scared to wash our delicate seperates that make up our beloved capsule wardrobes and we are no longer put off buying things that need hand washing or drycleaning (we know that sounds so lazy!) In fact it's bye-bye to endless trips to the dry cleaner & it's farewell to drying our cashmere on the floor of our kitchens! That's right, stop the press; you heard it right, finally there's a washing machine and a tumble drier that quite literally wash (& dry) the unwashable!
Scroll below to see how got on trying out these new miracle machines…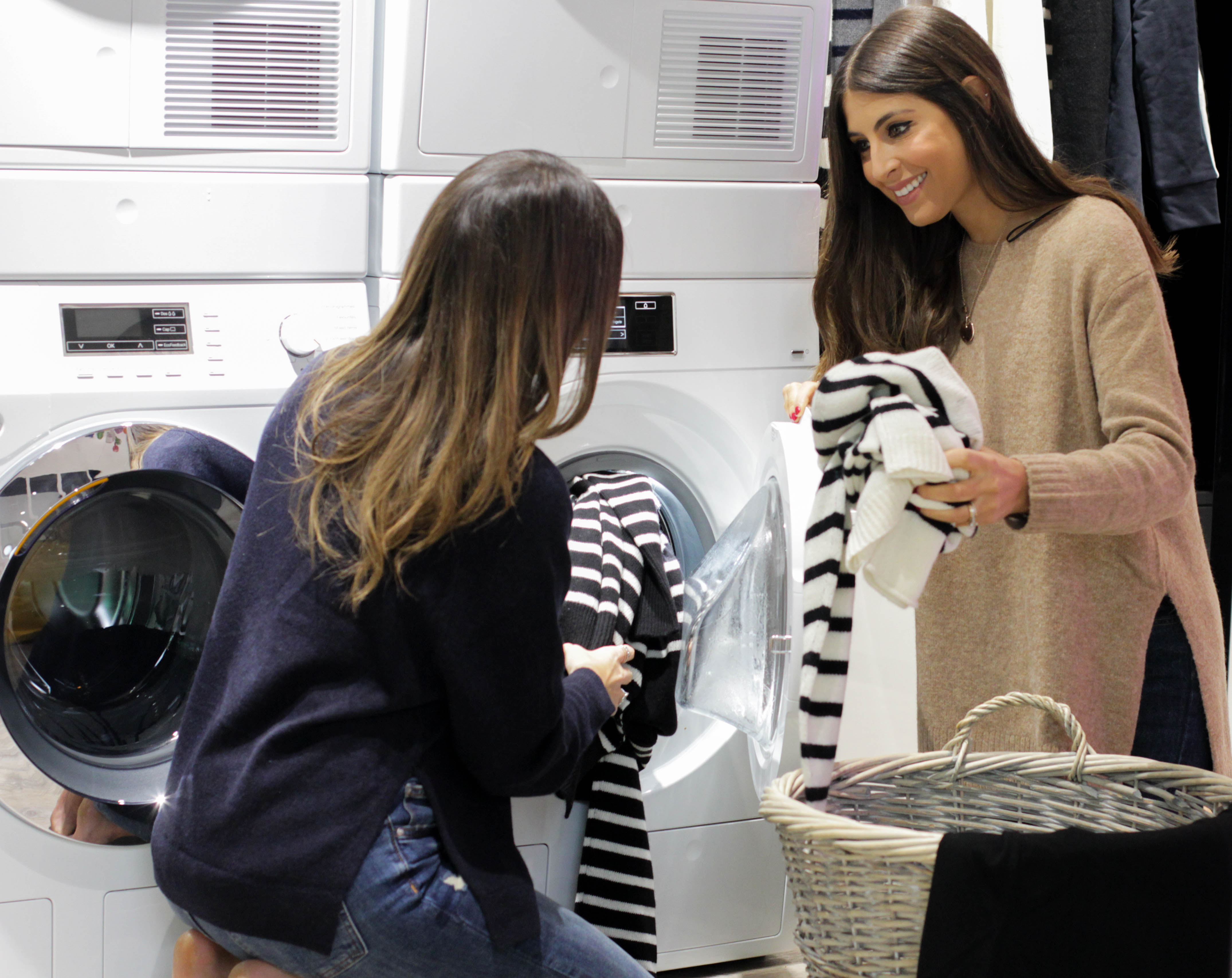 Washing…check out the touch screen control, it makes the machine so clear & easy to use. There's options for all the delicates with specific programs for each. No more hand wash / dry clean only items…
Drying…it's the low energy consumption and quick drying times that are some of our favourite features. As well, the very clever machine can actually detect when your load is bone dry, gone are the days of realising you're folding a damp duvet half way through. Even better, with their 'FragranceDos' feature you can add a scent pod to your drier which releases a fragrance to your washing, it makes your washing smell literally insane. AND with anti-crease function that means less ironing too. Do we need to say more?!
Actually one more thing…here's a 20%  discount code for you lovely readers that is valid until January 2017.
The code is: CRV5WVZNNH 
After spending the past week testing out the machines we can confirm that it does everything it says on the tin. Despite being a little scared at first, it was music to ears (& eyes!) when our cashmere came out unscathed (after being tumble dried!) and our silk blouse as pristine as the day it was bought (the machine can actually treat up to 23 stains & up to 3 stains in one wash!) Our stripes didn't run and our skinny jeans were just the right amount of skinny. We now feel sorry for our dry cleaners…
ph. @Rebeccaspencer_photography
*This post is in collaboration with Miele to promote W1 Washer and T1 dryer. All words, opinions & photos are all our own*