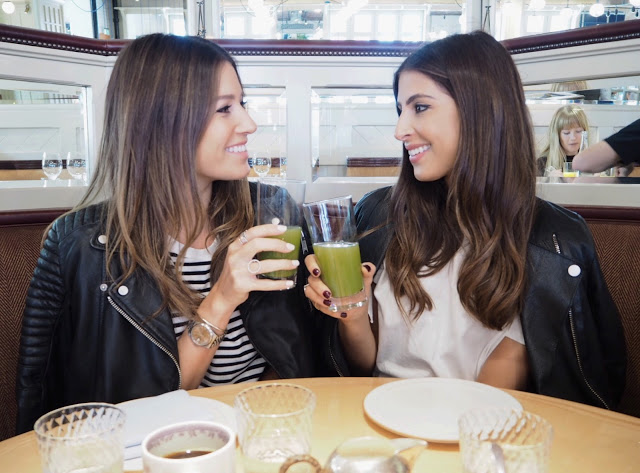 So as you all know we both work full time around the blog and it's a real juggling act – we work evenings and weekends blogging and are crazy busy at our day jobs Monday-Friday. We're definitely not complaining as we feel very lucky & fortunate that we have not one; but two jobs that we love! However it does take it toll and we have come to realise the importance of making time to chill as well as taking some small steps to help keep us on the straight & narrow!
When we're feeling stressed or things feel too much we ask ourselves what makes us feel good…and we've concluded that there are a few things (see below) that we can do daily / weekly / monthly that really help us keep on track and release the feel good factor!
L U X E  P E D I S
Oh Cowshed – our guilty pleasure! When you can't understand why a pedicure is so expensive, head to Cowshed – all will be revealed! From the menu (which includes a gluten free brownie of dreams) to the decor, to the amazing therapists, the minute we sit in that armchair it's like a fluffy cloud surrounds us and we are in utter heaven. We try and treat ourselves every 6-8 weeks especially in the summer and it's always more fun to go with your bestie!
G E T T I N G  O R G A N I S E D
Sometimes we feel like we're the only ones who don't use their iPhone as a diary but we love to see everything written out week by week – we find it so much easier! One night a week we meet up just to organise our dairies, respond to emails and get our dates and calendars aligned. It feels so good to get on top of things rather than let it build up. As you can imagine the juggling act is even trickier when it comes to our diaries!
N O T  F I L L I N G  F R E E  T I M E 
This is definitely the hardest one of all for us to stick to but definitely one of the most important. Why is it that when we have free time we fill it with useless things that we really don't need to be doing?! With only one day off a week we've taught ourselves the power of NO – just saying no to things that we just can't fit in even if we really want to.
An obvious one we know, but it goes alongside healthy eating – we just feel better when we make time to work out. We're not sure if it's the endorphines or our new love for highstreet gym wear but there's nothing better than letting it all out at the gym after a hard days work. We used to think we never had enough time to go to the gym but since getting into a routine and forcing ourselves to get on it we've come to realise that there's always time to add in some excerise to your schedule!


H E A L T H Y  E A T I N G 
As we've got older we've definitely taken much more time over our health and wellbeing and whilst we love a couple of cheat meals on weekends we really try hard to stick to a healthy diet in the week. We always notice a difference in our hair, skin and the way we feel when we eat good food, drink lots of water and cut out the processed rubbish. Philippa shared her green juice recipe with you in our Q&A post and it's definitely one to add to your routine if you can make time in the morning. Sarah's favourite healthy snack is coconut chips – they taste a bit like crisps and really fill that craving when you're in need! Plus they are good for you & contain no nasties!
We hope you enjoyed today's post & would love to know how you take time to switch off & feel good!
S & P x