We know it's a little early to be gift giving but sometimes you just want to say thanks…thanks for being a great friend, thanks for being there and thanks for all the lovely things you do; and that is what today's post is about, saying thank you with a special gift. We definitely don't say it enough to each other…with our crazy schedules of work and the blog we have to be a strong team, one takes charge when the other is bogged down and it doesn't even need to be discussed. We can honestly say we have the best partnership and at the same time are the best of friends! As we're now getting in to the festive spirit it felt like the perfect time for a bestie day out and to spoil one another!
So in line with saying thanks, last Sunday we headed to The Kensington Hotel (our new obsession hot spot!) for our absolute fave; afternoon tea. We both decided to buy each other a couple of treats, nothing too over the top just what we thought the other would love as a little pick me up to each other during this manic period! Whilst gorging on cakes, scones & macaroons we gave each other our cards and our gifts. We both picked our pressies from Hush (seperately of course!) and you can see what happened when we opened them below and on our Instastories 🙂
 For those that aren't familiar with Hush, it's the most gorgeous site full of wardrobe essentials like super cute knits (remember this Etoile sweater Sarah wore on our recent trip to Bicester Village) luxe PJs and cosy scarves as well as being a fab place for buying gifts all year round, but especially during the festive season! Their gift section on the site is so well put together and makes life so easy if you're looking for that special something. You can shop according to your budget as well as picking from the cutest gift boxes which contain some of their best sellers.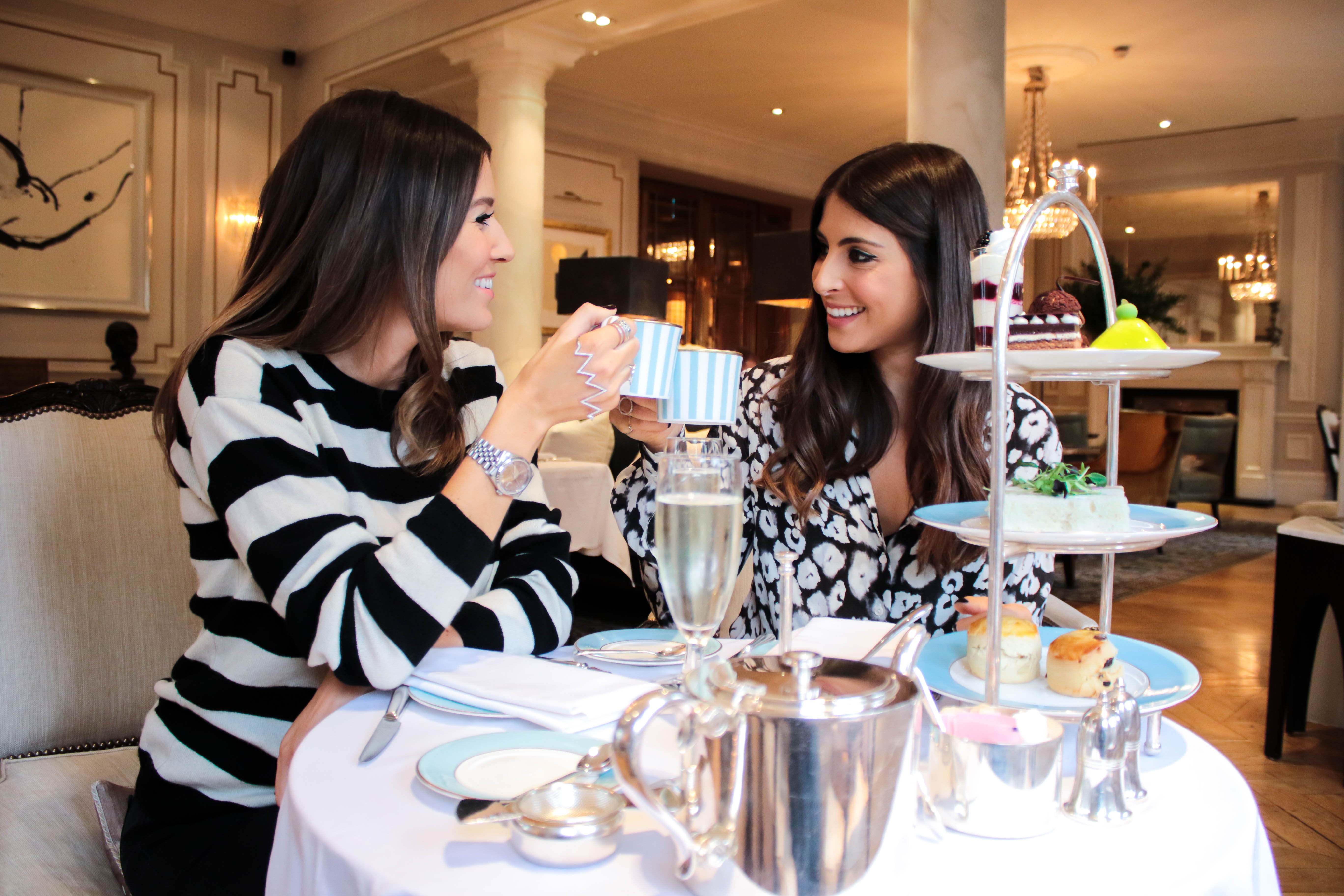 Sarah's gift to Philippa:
"Philippa lives in jeans and she's partial to some seriously good jumpers, so when I saw the 'C'est si bon' sweat I knew she would love it. Wearing smart casual to work on a daily basis we often say that we never have enough relaxed wardrobe pieces, so we're both always on the lookout for casual pieces that still feel cool at the same time – the slogan sweat was perfect and I was instantly sold. I knew exactly how she would style it, with her failsafe grey skinnies & her fave flat Louboutin ankle boots! We also both have a thing for a good old pair of PJs and you can't go wrong with a pair of pyjamas right? This star print pair are so cosy and I loved the green and blue colourway (the only time it's acceptable to wear green & blue together!)"
Philippa's gift to Sarah:
"A few months ago it was actually Sarah that pointed out this C'est si bon jumper to me and I had made a mental note to make sure either Craig (her hubs) or her mum should buy it for her as an Xmas pressie. The minute we came up with the idea to take each other for afternoon tea and exchange gifts I instantly thought of this jumper as the perfect pressie… who would have thought she had the same idea?! We're forever twinning from the inside out 🙂
Luxe PJs are always a great gift idea, because lets be frank, you would never buy them for yourself! When I saw these monochrome spotty silk pyjamas I knew how much Sarah would love them, especially as the shirt can be worn inside and outside the bed!
Here's some more cute gift ideas from Hush to get you in the festive spirit:
ph. @Rebeccaspencer_photography
*This post was in collaboration with Hush, all views, opinions & photos are our own*