Aside from our shiny new do, some of you have asked what tools and products we use on our hair, so here's the lowdown:
We can't recommend Nano Keratin products enough! Having balayage colour has made the ends of our hair slightly dryer, so we've invested in a professional shampoo & conditioner to help restore our locks. The 'colour preserve' range is so moisturising, it's really helping to keep our natural sun kissed colour – staying away from the worn out orangy look!
We protect with GHD heat protect spray.
Please trust us – if you style your hair with any form of heat you need this product! It's so lightweight you honestly won't notice you have an extra product on your hair. We restyle our hair every day with tongs, so a heat protect spray is vital… this is the best on the market.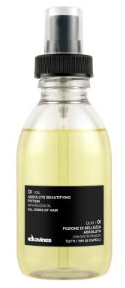 We oil with Davines absolute beautifying potion.
We were given this product to try at a press day last season, and we are so thankful for it! Davines is not such a well known brand, but once you try it you'll want the whole range! It's not just the smell that's incredible, we love how it instantly de-frizzes and gives such a gorge shine… oh and even better – it's a carbon free product!

We curl with Babyliss soft waves hair styler.
Quite a few of you have asked how we create the soft waves in our hair… well here it is!
Make sure you take quite thick sections (this gives it the natural look) and simply wrap it around the wand for about 10 seconds at at time. After you have finished curling, run your fingers through your hair and shake it out to loosen the waves.
We complete with Ojon Rare Blend Tamer.
Essentially, this is a mascara for your hair that slicks down fly always and frizz. This product is our lifesaver when we don't have time to restyle our hair in the morning…we promise it doesn't make your roots oily!
Please leave us a comment if you have any further questions x