Today is a very special day at WAT,  after two and a half years of our current website (which we created all by our very selves!) we finally took the plunge and had our baby redesigned. We couldn't be prouder of our brand spanking new WeAreTwinset.com!
In true Twinset style we've kept the theme super simple & minimal with just a little swankier and snazzier finish for all you fabulous readers. All the content will remain the same with lots of fashion inspo posts, beauty tips and a few travel & lifestyle goodies thrown into the mix as well. We will be be back on track with our posting days – Monday, Wednesday & Friday so make sure you stay up to date with all our latest & greatest content. As always we would love to hear from you, any feedback you may have and your thoughts on the new site – we value all your lovely words & wishes.
Now back to business…We hope you enjoy our very first post on the new WAT – we wanted to do what we (hope) we do best – simple, casual style that anyone can wear. For us, that all starts with a great coat. Now a grey coat is one of the foundations of a hardworking wardrobe, in fact we believe it's a necessity for one and all! There's no rules when it comes to the type of grey – any shade goes. Think of it as a neutral it goes with anything, anytime. We picked up these two in Zara this week but there's so many must-haves on the high street whether you want long, short, tailored or oversized.
Being girls that don't wear much colour, the one hue we go back to time and time again is RED – especially when it comes to accessories. When you wear a simple palette of black / grey / white / navy and camel a pop of colour is a great way to elevate your everyday looks. A pair of red boots may seem a little out there but try adding them to your simple grey knit and denims for an instantly different look. If that's a little scary then ease yourself in with a red bag (we suggest a small style rather then a big red handbag) and we promise it will be your go to bag in no time!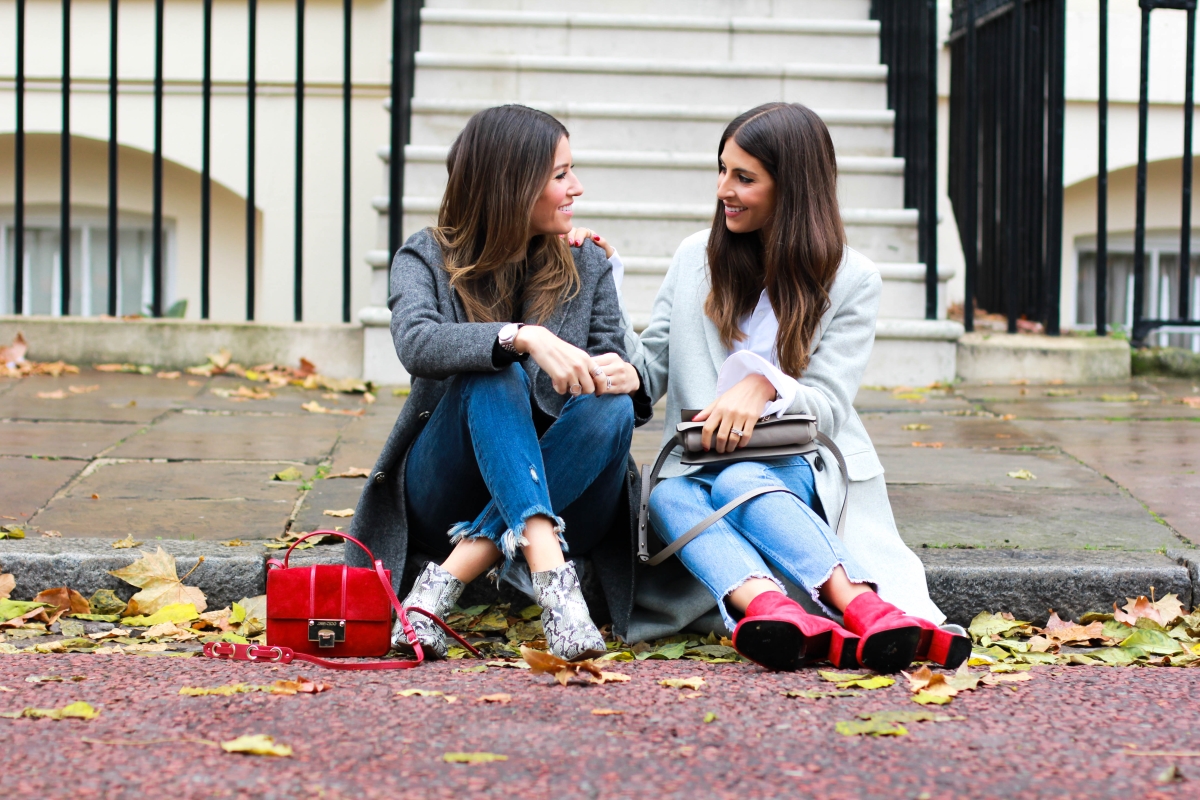 Philippa's wearing:
Zara coat | Boden knit | Jimmy Choo bag (similar here) | Zara jeans (similar here) | Office boots
Sarah's wearing:
Zara coat | H&M shirt (similar here) | River Island jeans (similar here) | Chloe bag | Topshop boots
We hope you love our new design as much as we do,
Love, S & P
ph. @Rebeccaspencer_photography