I've just booked a really last minute holiday, for next Thursday (!) – the hubs and I are crazy last minute people! And with that comes holiday wardrobe panic. Obviously I have plenty of things to take away with me but there's something about a few 'new things' for any holiday. I am often asked about shopping hauls & high street hauls, so here we are…a last minute dash & grab for  your holiday & what to buy in which store. I hope you like!
On a side note my house is really dark (love a dramatic wall!), so I'm experimenting taking pics in my 'office' (that is SLOWLY coming together) so please excuse the empty shelving, TV that needs to come off the wall & blank walls – it's a work in progress!
P.S. the pic above is from Dubai last year wearing my face Pampelone dress

W A R E H O U S E
Whilst we all know their dress collection is pretty epic, they are underestimated in the casual department. Their tees & cargo trousers are worth a look, they are the perfect place for that easy, no fuss travel outfit. For me that means khaki trousers, a statement tee and flats all that can be mixed & matched & worn later on on your trip as well.
H&M denim jacket | Warehouse tee | Topshop trousers | Rae Feather bag | Christian Louboutin shoes (similar here)
&  O T H E R  S T O R I E S 
My new guilty pleasure with a dress collection like no other …hello & Other Stories.
What I love about & Other Stories frocks is that you can wear them anywhere. They are comfy, swishy & cool enough for the day with flats but equally good if you add a chunky heel for the night too. Whilst I would love to take 14 day outfits & 14 night outfits on hol, sadly I can't! So doubling up on dresses is a great way to keep that luggage down. P.S. This dress with a tan…
& Other Stories dress | Next shoes (similar here)
It's no secret that I have a thing for white dresses & this season the shops have been bursting with them. Whilst you won't catch me in a white body con mini – give me a broderie anglaise midi & I'm as happy as can be.  Cue H&M & their high summer pieces that include ALOT of white! Think 'going out' tops, cute dresses & some unexpected sandals that are perfect for any holiday suitcase.
Asos can sometimes be a minefield, scrolling through 2789 tops to find the one, but I've got to say, if you need some last minute holiday tops, there's nowhere better. Camis, off the shoulders, one shoulders, you name it, the selection is like no other & you're guaranteed to find what you're looking for – even if it does take an hour or two. It's always my go to for those outfit finishers & you can be sure that every holiday there's a last minute asos order heading my way the day before I jet off!
Asos top | Topshop trousers (similar here) | Massimo Dutti slides (similar here)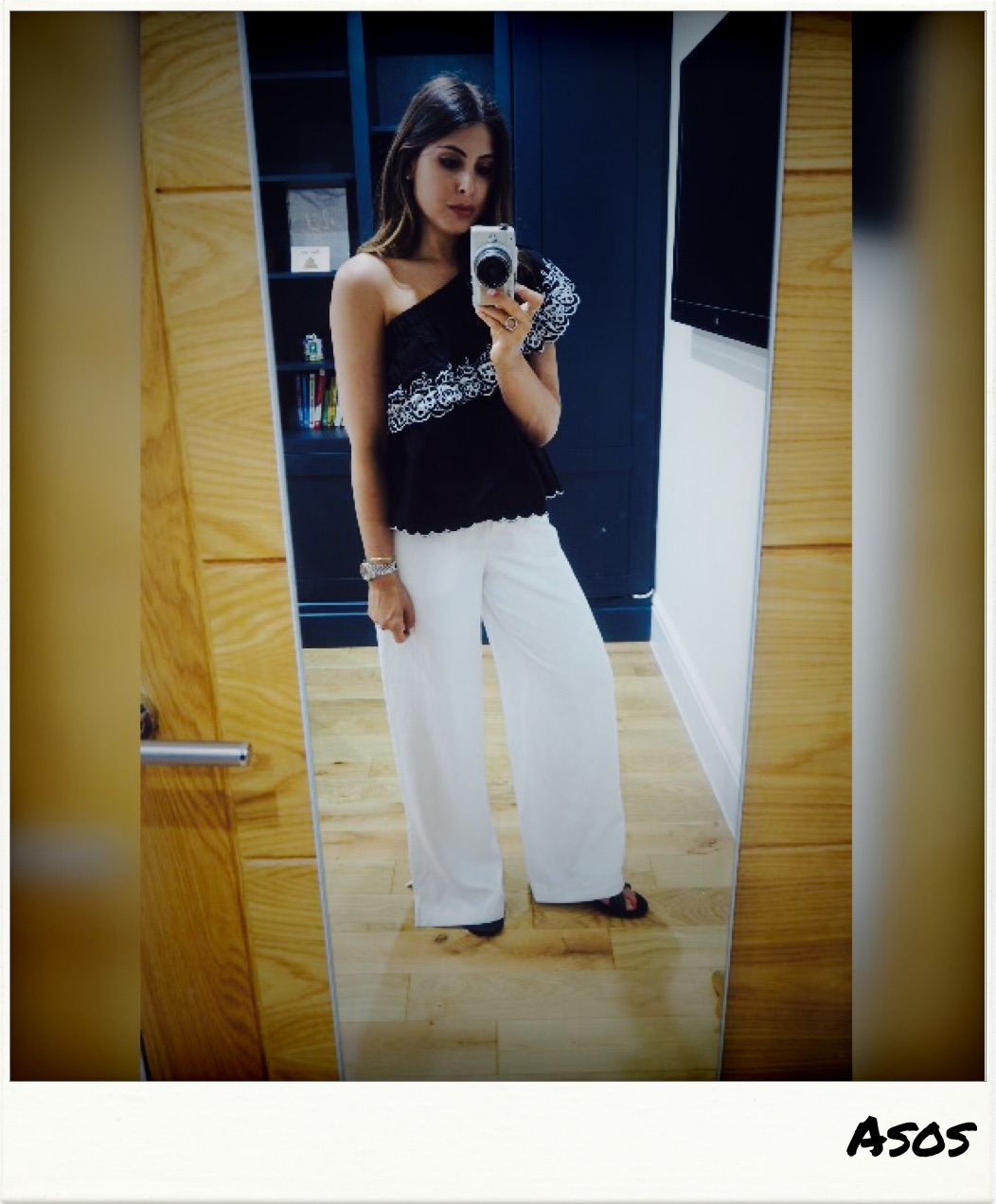 I always like to take with me one special outfit for holiday – a really wow piece to get dressed up in for a fancy dins or rooftop drinks. I've always loved Whistles for their luxe dressy pieces & this season it's better than ever. The dresses look just as good for a wedding with a strappy heel as they do for a holiday with something a bit chunkier & messy hair. This cut out shoulder is my new love & trust me it is so flattering (you can thank me later!)
Whistles dress | & Other Stories bag (similar here) | River Island heels (similar here)
We all love a bit of Topshop, you know when you head into the Oxford Circus store there's going to be a spend up up going down! Its tees, denims & knits are main stays to my wardrobe but I'm loving the more out there bits this summer. I would say if you're looking for something a bit different this hol, Topshop is the place to be. Cute prints, wrap skirts & fun hemlines (who would have thought!) are great for having a bit of fun on holiday & if there's one place to try new trends it's in sunnier climes. This skirt might be stripey (can't change too much now can I!) but the hem gives it that summer update – love!
River Island cami | Topshop skirt | H&M sandals
J Crew earrings – that's it. There's nowhere that does earrings quite like them. They are on the pricer side of things (top tip – check out their sales, the reductions are amazing) but the quality is incredible & you just can't find anything else out there that compares. I've picked a white & metallic pair for my hols that I will wear most nights (if my lobes can take it!) and they are a great way to luxe up those basics pieces.
J Crew earrings (similar here) | Zara tee (similar here) | H&M culottes | Hyley bag | Hermes sandals