Say hello to the We Are Twinset desk 🙂 On the weekends / evenings / any free time we may have, we sit here to brainstorm ideas, put blog posts together as well as using it for lots of flat-lay images on our Instagram. We've filled it with lots of our favourite things that keep us on track and obviously keep things looking pretty. We're not fans of cluttered surfaces and can't bare the thought of mess so it's simple and minimal all the way!
When it comes to interiors, we're constantly on the look out for frugal, yet unique finds and there really is such an amazing choice on the high street at the moment. If we've learnt one thing, it's that you have to be savvy and put the work in to find luxe, yet affordable items. We know this doesn't always come easy to some, so we've done the hard work for you. Scroll below to see all our latest interior obsessions.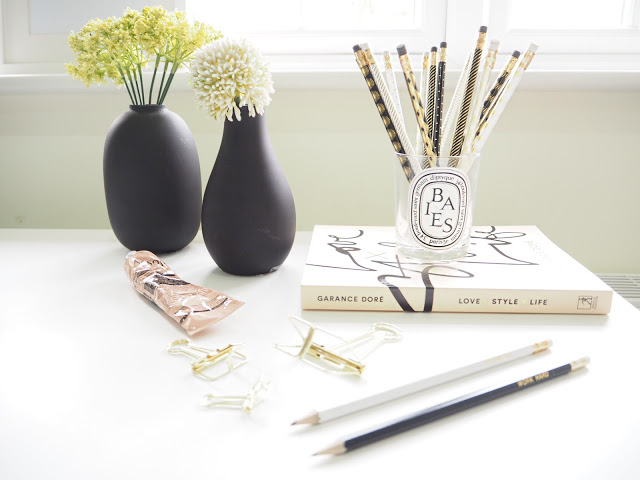 Like the saying goes "Rome Wasn't Built in a Day" all the items on our WAT desk have taken time & consideration and are almost like our collectables! We love Etsy for anything quirky & personalised. Etsy is especial great for really unique, one-off looking pieces with very friendly price tags! H&M home have the best designer inspired items (hello Jonathan Adler doubles) and John Lewis is always a firm favourite for the finishing touches. Take note of our empty Diptyque candle – the perfect tumbler for pens & pencils, make-up brushes and in the bathroom, we also love to fill them with ear buds too!

JavaScript is currently disabled in this browser. Reactivate it to view this content.
Just as we love a statement shoe to complete a simple outfit, we love some statement accessories to finish off our homes as well. We're currently loving stacking little gold boxes and obvs there's a few pineapples dotted around too! You can make such an impact with introducing small accessories into your home and at the moment we seem to be obsessed with all things gold foil. You may have spotted these amazing M&S initial candles on our Insta feed before Xmas… we're still obsessed with them. We love how they add a personal touch and for only £6 you really cant go wrong!

JavaScript is currently disabled in this browser. Reactivate it to view this content.
The greatest present you can ever buy a fashionista is a fashion book, we literally can't enough of them and between the two of us over the last few years we have have quite an impressive collection! We love a fabulous coffee table book and they are always a source of inspiration for us. Some of them are a little on the pricey side but when you display them everyday in your home it makes them worth the splurge! Can you spot the carrara marble slab?! This might just be our greatest home styling tip yet… It usually sits on top of Sarah's mirrored bedside tables ( a top tip for updating old furniture) and when we want to do a marble flat lay image we shlap it around the house to find the perfect lighting for our pretty pictures!

JavaScript is currently disabled in this browser. Reactivate it to view this content.
It's not just accessories that we can't get enough of, fragrances are another secret obsession – what's better than a wonderful smelling home? When we went to Paris a couple of years ago (when Twinset was born!) we fell in love with the Hotel Costes room spray (our favourite is Brown) and it is now one of our home essentials. Jo Malone
Oud & Bergamont
and Le Labo Santal 33 are also gorgeous smelling scents that always make us happy. You know the kind of smell you just smile at when sniffing…Or is that just us?! You can use these scents as perfumes and spray around the room too – perfect!

JavaScript is currently disabled in this browser. Reactivate it to view this content.
And last, but not least, all the bits & bobs we place on our dressing tables, that make us smile every morning when we sit down to do our make up. It's far too easy to just shove your things into draws, but we take a lot of pride in decorating our surfaces and think all our small decorations hold a form of sentiment and reflect our style. Again, spot the Diptyque empty candle being used for our brushes…cost per wear… or something like that 🙂

JavaScript is currently disabled in this browser. Reactivate it to view this content.