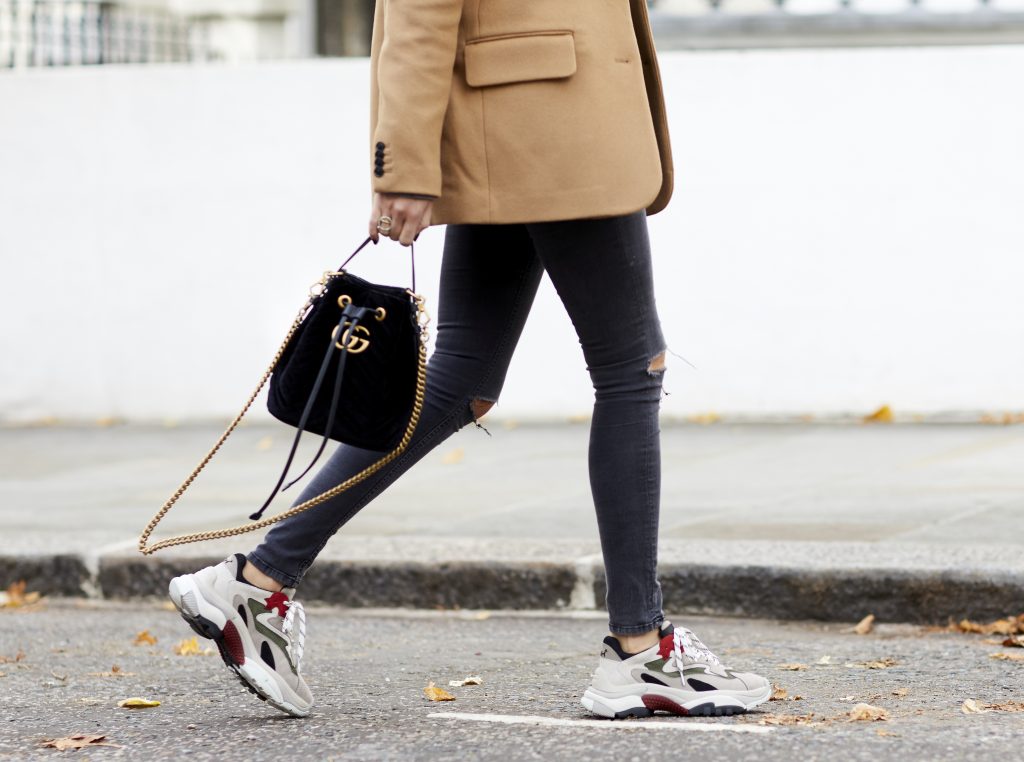 If you've followed us for a while, you will know that we always mix our high street staples with designers accessories. A phrase that I keep hearing more and more of recently and a look that most fashionistas go for now is known as the "high-low". Basically it means; mixing high-end designer statements with fast-fashion, affordable items to create an effortlessly chic & wearable look.
It's a bit like the "no makeup, makeup" look or "just out of bed hair" look; the High-Low may look like very little thought has gone into it, but when styled well, each item would have been carefully considered and there's definitely an art when it comes to creating this look. Scroll below to see my 5 rules to follow when you're looking to mix high & low priced items in a effortlessly chic & sophisticated way.
RULE 1 : DON'T SPEND ON THROW AWAY FASHION
If I could describe my style in three words, it would be; classic, relatable, minimal. I of course enjoy a stand-out accessory (either a pop of red or some studded embellishment) but when I invest in designer items I always go for classic items I know will last for a few seasons. Every single designer has bought out their version of the chunky "dad sneaker" this season but it's definitely a one-season wonder trend and so definitely is not worth spending lots of money on. I adore my pair from ASH and there are so many more styles with friendly price tags available at the moment:
RULE 2 : INVEST IN FOREVER PIECES
Out of all of the rules, this is the most important. It's a really scary thing parting with lots of hard earned money on an item and so you need to make sure that what you're spending your cash on is 100% worth it and will see you through season after season. I always spend my money on shoes & bags and at the beginning of each season I'm always on the look out for a classic bag that I know I'll be able to wear dressed up (for work commitments) and dressed down (for mum life). At the beginning of this season I invested in the Gucci marmot bucket bag and I haven't looked back since. I think you can see from the sheer amount I have already worn it that it was an item definitely worth investing in! See below other classic handbags I'm loving:
RULE 3 : SEEK EXPENSIVE
Be a savvy shopper; when you're shopping on the high-street think and buy expensive. Check out the fabric of what you're buying, always choose the most expensive looking tonal shade and make sure the cut and fit make you feel a million dollars. If you feel confident and comfortable in what you're wearing that will always shine through, no matter the price tag. I'm always so impressed with what the high street has to offer in terms of knitwear and this is definitely a staple you do not need to invest in:
RULE 4 : KEEP IT TONAL
My house is tonal, my wardrobe is tonal, I dress Alfie in tonal shades, I basically love tonal hues! Whether it's shades of grey or beige, I always find a tonal colour palette makes an outfit look really expensive & sophisticated. If you haven't got the message on our Instagram yet, I love a classic grey or camel coat. Check out the styles below that I've got my eye on:
RULE 5 : MAKE IT YOUR OWN
Last but definitely not least, ALWAYS make it your own. We all have our own style and that's what makes us unique. How boring would it be if we all wore the exact same outfit in the exact same way. Everyone interprets trends in their own way that fits right for their style and it's so important to stay true to your style. I always say this, but if you don't feel comfortable in something you really will not wear it well.
Ok that's enough rules for a Monday morning!! Have a lovely week all, hope I've inspired you to re-work some of your wardrobe classics and maybe tempted you to add something to your Xmas Wishlist!!
ph. by Shaun James Cox