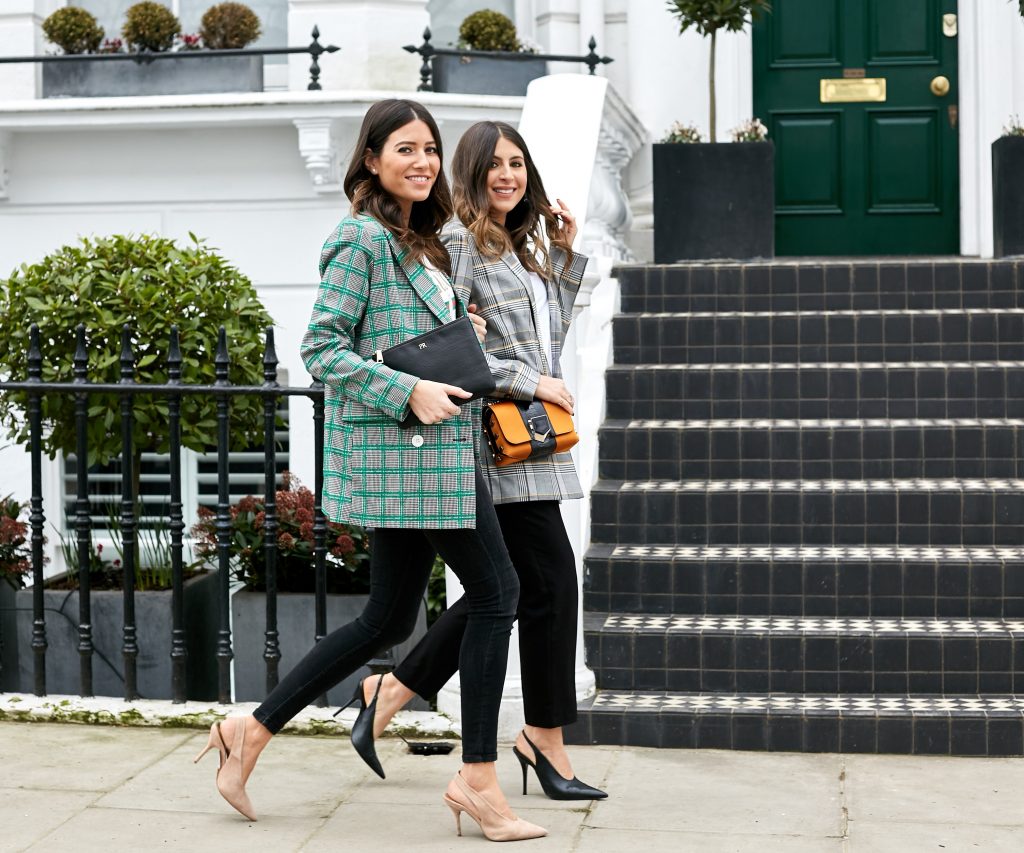 On Saturday we had a fab day at the 'SheerLuxe fashion day', we did a Q&A with the lovely Charlotte Collins fashion editor at SheerLuxe. Our topic of course was…looking luxe for less, our kind of ethos when it comes to dressing. Essentially you don't need to invest in designer clothes head to toe to look like your wearing expensive pieces, it's all about clever high street purchases mixed in with a few carefully thought out designer pieces (mainly in the accessory department!)
We're going to run through a few of our favourite tips to get that 'luxe for less…'
 1. Know your body & style – This is so important when buying clothes, we all have areas we aren't confident with as well as points we feel happier with. It's all bout knowing what these are and buying into pieces that highlight the best bits and help disguise the areas you're not as happy with. If something fits you properly it is always going to look more expensive – this is true for cheaper high street items as well as more expensive pieces. Take note!
2.
The importance of a capsule wardrobe

–
These are the pieces that everyone should have in their wardrobes. A great white tee, a leather jacket, a pair of blue & black jeans, a black polo neck, a grey knit, a black slim trouser, a black blazer…you get the gist. Get these right and your half way to having that failsafe wardrobe that can take you anywhere. Alongside these the aim is to be able to add in those trend led pieces each season to elevate those basics. You can mix and match these capsule pieces together with the seasonal trend pieces and these will take you from day to night & everything in between.
3.
Make trends work for you

–
Be careful when it comes to working trends full throttle, a gentle nod to a trend is the best way to do it. For example if you fancy something 70s inspired lay off the tassles, the suede and fringing in one go and opt for something simple like a suede mac, it's an easy way to work the look but you will have so many wears to wear it.
4. Pops of colour – We're not massively into colour and we've definitely learnt throughout the years that by adding in pops of colours to our looks is a really chic way to work any colour trend. Red is always our go to favourite whilst this season we have been all over green! Again if you're buying cheaper pieces the brighter, printed fabrics always seem to look less expensive them the simple pieces in more muted colourways. If you're a bit of a colour phobe try easing your way in with a shoe or bag.
5. Tailoring – Tailoring is one of the easiest ways for something to look more luxe. Add a great blazer over a simple jeans & a tee and you've instantly elevated that simple outfit. Look for strong structured shoulders and stiff shapes, anything floppy or droopy never seems to look as luxe as something that has a great well fitting shape.
6. Spend on accessories – When we invest it is always on shoes and bags, this is another way to instantly make a simple outfit look a lot more expensive. Plus when it comes to cost per wear, if you buy well (think classic colours and longstanding styles that will stand the test of time ) they will easily pay for themselves when you wear them all the time!
7. Monochrome is your best friend – We always prefer to feel underdressed than overdressed & monochrome always seems to be the perfect attire no matter the occasion. If you don't know what to wear, go black & white, we promise you; you will never not feel chic in mono! And if you're feeling brave add a red shoe or a red lip for the ultimate finishing touch. This season we can't get enough of mixing those spots & stripes.
8. Buy when you see – This is so important when it comes to high street buys – if you snooze you lose! Think of that perfectly cut Zara blazer, buy it when you see, try it on with our staples when you get home & work out all the different ways you can wear & worst case if you change your can take it back. If you stop to think about it then it might not be there the next time  you go back – that sell out Zara piece is gone forever!
9. Don't be scared by sizes – We can't state this enough, sizes differ in every store… try and forget it if you're not your usual size in a shop, if something fits & you feel good in it buy it – ignore the size. We love H&M jeans for example but we know their sizes run small; but as long as we are prepared we can handle it! Things like oversized tees & chunky knits also often look better in bigger sizes so they actually slouch better on the body. We've got a whole range of sizes in our wardrobes!
10. Less is more –Overdoing it in any department is always a no go when it comes to looking as luxe as poss. For example if you're opting for a bold heel then keep to a minimal bag. Simple dressing always looks more expensive then when you try too hard or wear too many things at once. Plus if you feel uncomfortable when you get dressed in the morning you will feel that way the whole day & that is without doubt the worst feeling!
Philippa's wearing:
Topshop blazer | Gucci tee | Aurora clutch | New Look jeans | Topshop heels
Sarah's wearing:
Asos blazer | New Look tee | Topshop trousers | Jimmy Choo bag (similar here) | Topshop heels