We can not believe how much WAT the brand has grown over the past year, and we have you all to thank! Our latest WAT the brand releases in particular though have been so much fun to design and create; we took all your feedback and ideas into account during the designing process, and we truly think we have created pieces that you are bound to fall in love with as much as we have! These pieces are those special, wardrobe staples which will carry you through this winter looking and feeling your best.. So get excited, because we are going to take you through all the pieces from the latest WAT the brand drops so you don't miss out!
First up we have our new Grey Marl Set (in both Womens and mini!)… and it is seriously the co-ord of dreams in every possible way! It is beyond comfortable, looks great on everyone (any age/any shape), and we are so in love with the Yin Yang symbol and everything it stands for!  This set is also especially special to us as with every purchase of either the joggers or sweatshirt,  10% will be going to Smart Works charity, and with the mini set, 10% will go to Sebby's corner.
| Click here to shop the grey marl sweatshirt, and here for the joggers | And click here for the mini version ! |
Next up we have the much anticipated Vegan leather Joggers.  Leather effect joggers have always been a wardrobe staple of ours, so designing our own pair was beyond a dream come true! These joggers are the perfect shape, and look amazing dressed down with a sweatshirt, or dressed up with a blazer – they are so versatile!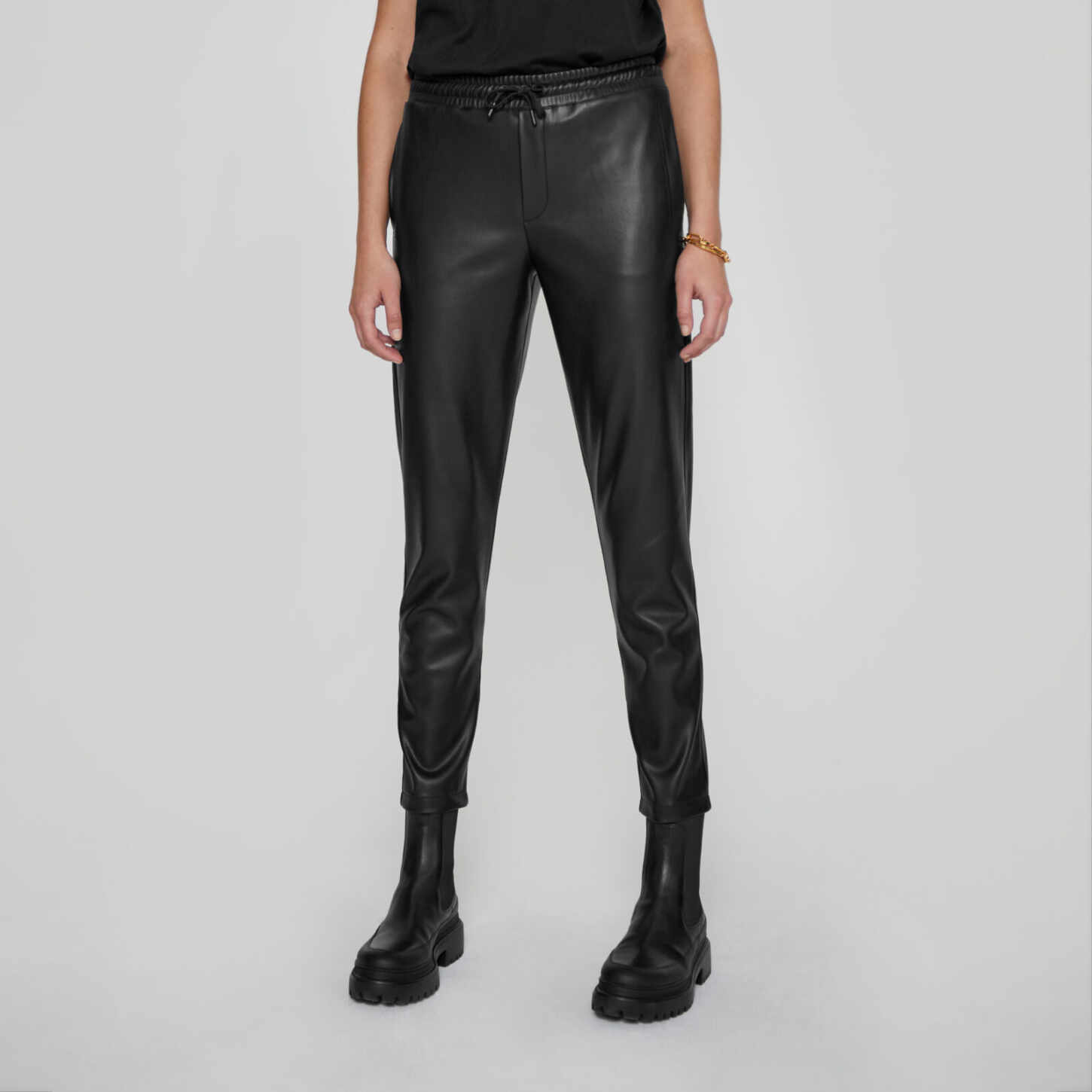 | Click here to shop the Vegan leather Joggers |
Up next, it is our beloved Jacquard Leopard set. This set comes in two stunning colour ways – Black and Wine, and boy are they both good! This set is the ultimate night-out, evening piece. It is so effortless to throw on, yet looks so chic. We recommend styling this up with a pair of strappy, heeled sandals, some simple jewellery – and you are all set!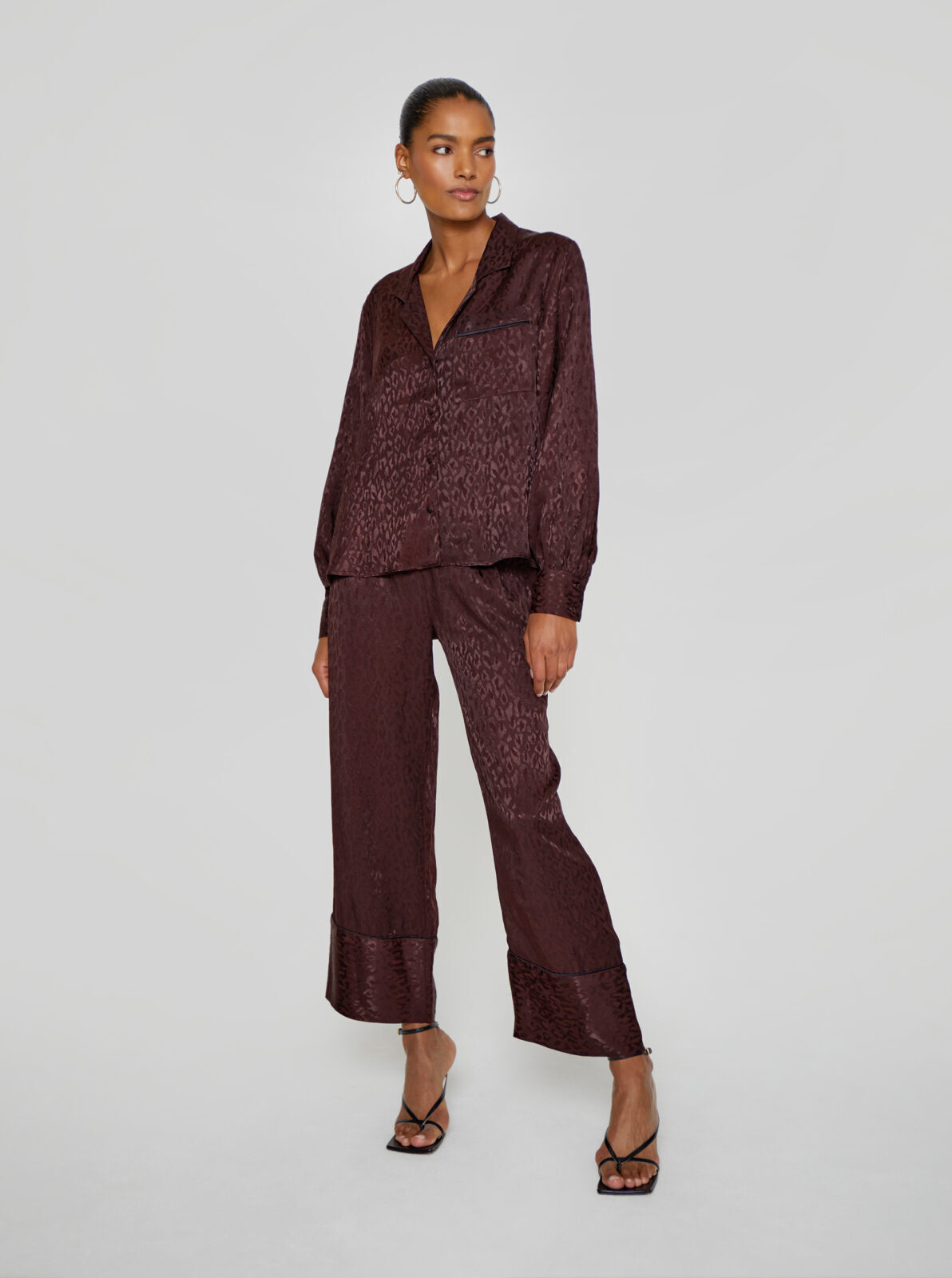 | Click here for the Black bottoms and here for the shirt | And here for the Wine bottoms, and here for the shirt |
And of course, we have our Cashmere Blend Set. With this set, we really wanted to create the co-ord of our dreams; from the neckline, material, to the choice of colours (Black and Ivy), we thought of everything that would make these pieces perfection – and we think we have done the job.  This set is perfect for that every day go-to look,  yet will look amazing smartened up; it is truly such a versatile, must have look.
| Click here for the Ivy Joggers, and here for the sweatshirt | Click here for the Black joggers, and here for the sweatshirt |
Next up, we have the Camel Coat... A definite favourite of ours, this coat allows you three different looks from one piece. The Coat comes with a detachable hooded gilet; allowing you to double up the coat and gilet for an effortlessly chic look, wear the camel coat on its own as a classic, stylish piece, or of course you can wear the gilet on its own for a cool, relaxed vibe. This coat is truly a must!
| Click here for the Camel Coat |
We could not be happier with how this next piece turned out.. and thats our Toffee Set. Everything from the colour, to the zipped collar turned out better then we could have imagined. This set is that every day outfit with an oomph; the colour and the zip really work to give this look a cool and chic edge, yet it is just so comfortable and effortless at the same time – is there ever a better combination than that?
| Click here to shop to Toffee sweatshirt, and here for the joggers |
Next we have the Teddy Borg Coat. This Teddy coat is the Winter essential we all need; It is made from a soft-touch fabric (making it extra cosy for winter!), and the best part of all is that it has a detachable self coloured hood! This coat works to be both practical and stylish and we can't wait to see you all looking amazing in this go-to winter coat!
| Click here to shop the Coat |
And next up, we couldn't possibly forget our beloved Stripe Knitted Jumper. We always knew how amazing this knit would be from the moment we tried on the sample, but having it sell out in a matter of minutes was beyond anything we were expecting! This Jumper is the ultimate winter wardrobe staple, and is such a standout piece – and we are so thrilled you love it as much as us! Although this knit is currently sold out, we can't wait to have it back in stock in November – so if you missed out, keep your eyes peeled!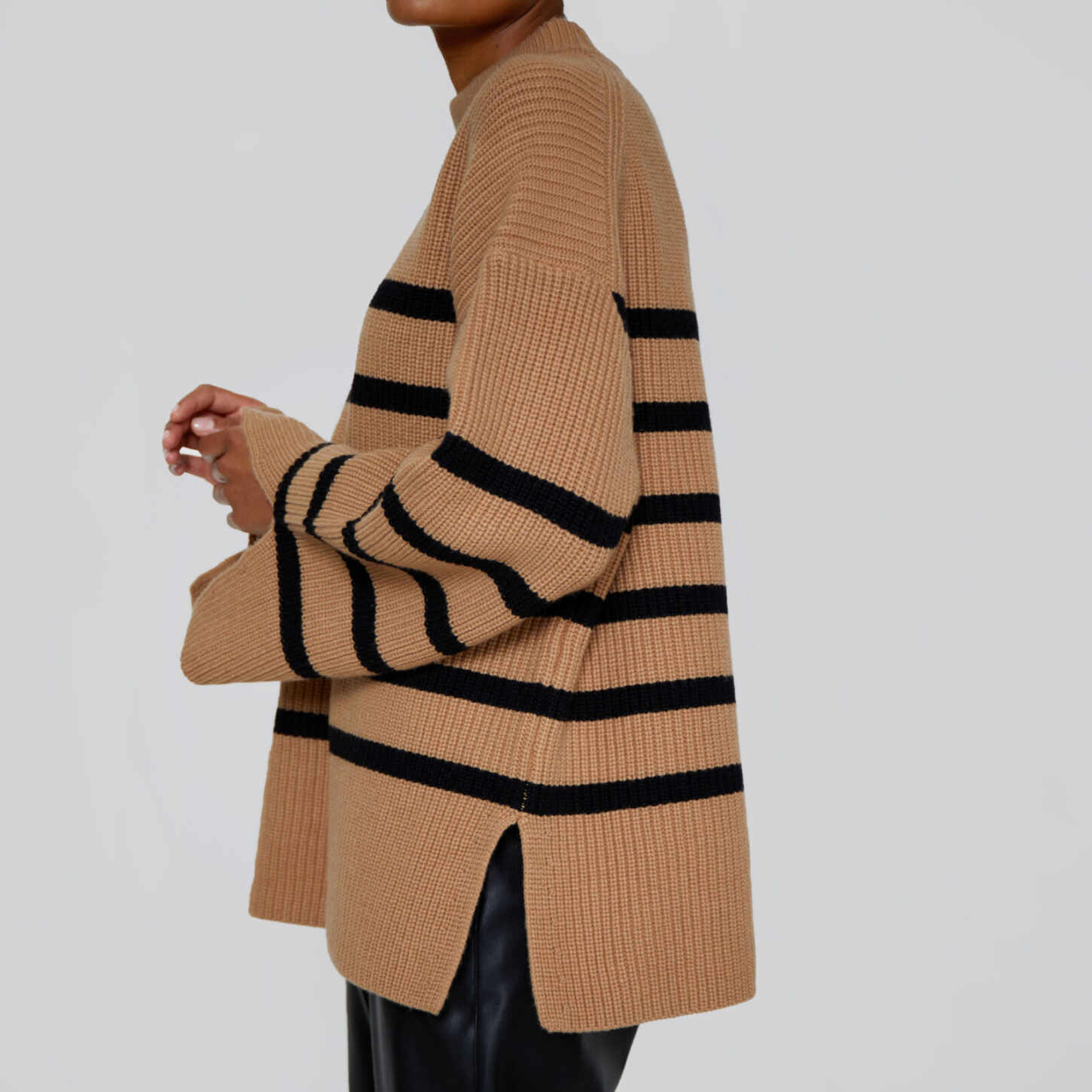 Penultimately, we have our Full Length Puffer Coat in Taupe. We have always been fans of a good puffer coat, however, having the opportunity to create our own allowed us to create the puffer of dreams! This hooded Puffer will get you through the cold, rainy winter months, and the gorgeous taupe colour means this coat will elevate, and look amazing with pretty much anything you decide to wear underneath.
| Click here to shop the puffer |
Last but certainly not least, we have our Cashmere Blend Beanies! This beanie comes in Black and Ivy, and we of course couldn't resist making a mini version too! This beanie is the perfect comfy, cosy hat we will all be needing during winter; whether worn with the matching cashmere set, or alone with another look – these beanies are a staple!
| Click here for the Black Beanie | Here for the Ivy Beanie | And here for the Mini Beanie  |