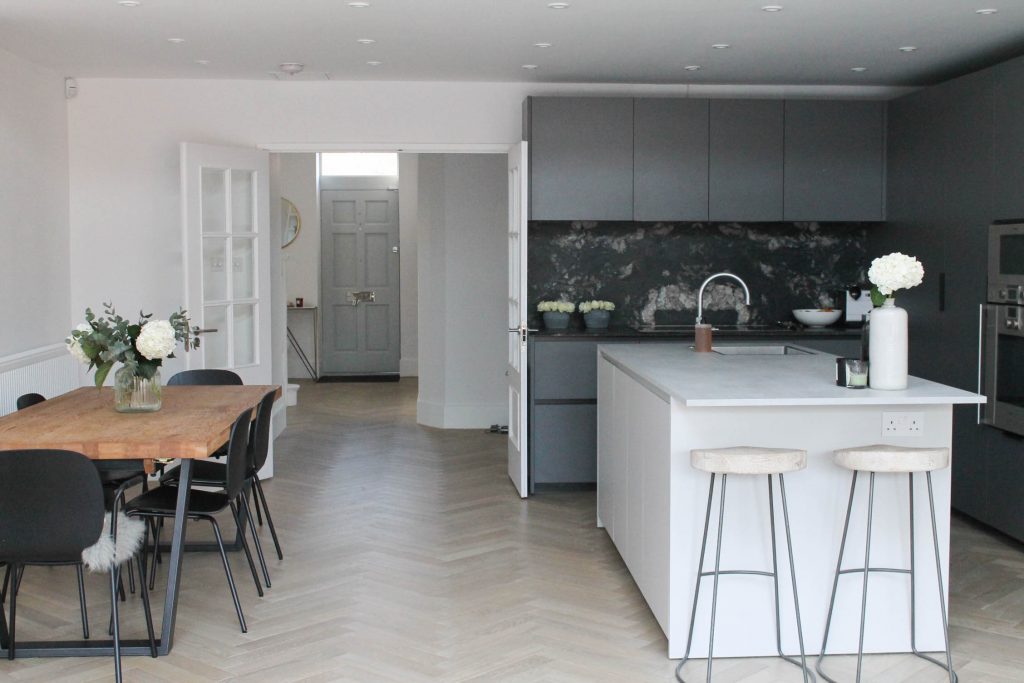 After the success of our recent Instagram live home tour & with so many of you showing such an interest in interiors, we thought it would only be right to share a little more home inspo & decor tips.
– written by Philippa – 
September 2015 Alex and I moved into our first house. Having only been married for 4 months, it all felt like a massive rush with everything happening all at once, but it was a house we knew we couldn't miss out on and a home we could visualise creating a family in. The house was built in the 1930's and let me tell you, it literally looked like it hadn't been touched/cleaned since. On the day we moved in (we had to have two different professional cleaning companies come in, it was that bad!) and I clearly remember both of our families saying "are you sure you want to sleep here tonight??"… but yes of course we did. Although the house stunk to high heaven, the toilet was leaking, the heating didn't work, the carpet was stained with god knows what, we both felt so proud that the house was actually ours and even in the disgusting state it was in, we loved it.
Fast forward 12 months and 2 weeks to the day, we finally had saved up enough money to move out and let the building work commence. So September 2016 was the start of the biggest, most stressful journey to date…as well as finding out i was pregnant the day before the builders moved in (yep, everything happening all at once again!) Everyone warned us how stressful a house renovation would be, but until we actually begun we had absolutely no idea what everyone had meant with this crazy emotional roller coaster! Saying that, aside from the structural/architectural side of things (which i hated!) I have loved every minute decorating my dream home. I'm a very visual hands on person so structural designs & plans is just not for me. Once the walls were plastered and the floor was down, i could really get into my element. The house still has work to be done (will it ever be totally finished though?!) but i'm actually loving taking my time with it now, especially now that the builders are out so i can enjoy taking my time with all the design decisions.
Would i do it again? well…never say never… but right now i'm saying never! Maybe it was just a mixture of my raging pregnant hormones, but working with builders/architects/structural engineers/the council almost tipped me over the edge. I'm definitely more about the design & finishing touches so if we were ever to move (which i NEVER want to do) i'd definitely just stick to a refurb rather than a whole renovation.
As this is my forever home I've kept the style very classic. It's a mixture of modern/traditional with a tonal colour palette. There's still so much i'd like to do but Rome wasn't build in a day…Have a scroll below to see where I've got to so far with a few styling tips along the way.
Philippa x
– T H E  F R O N T  R O O M –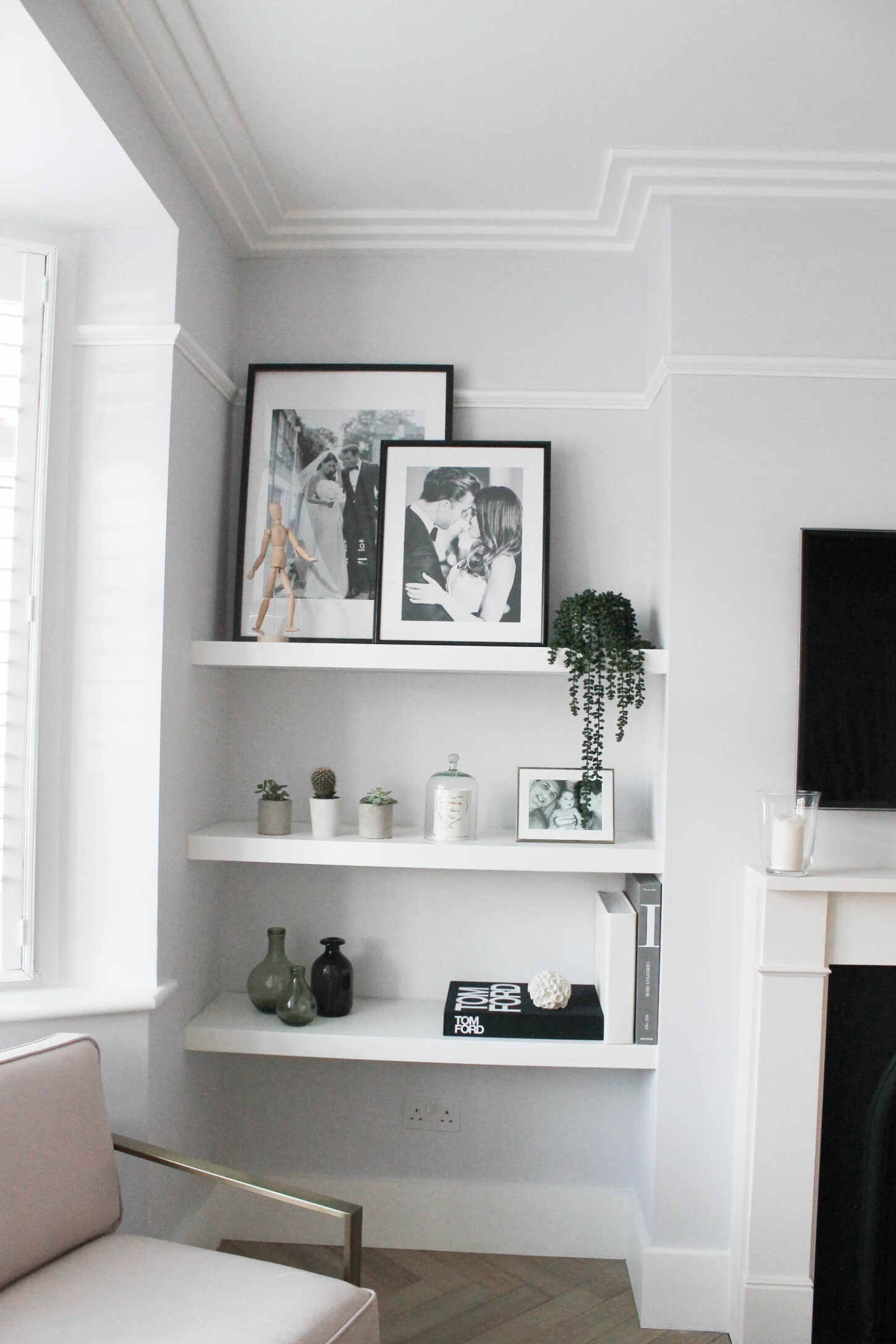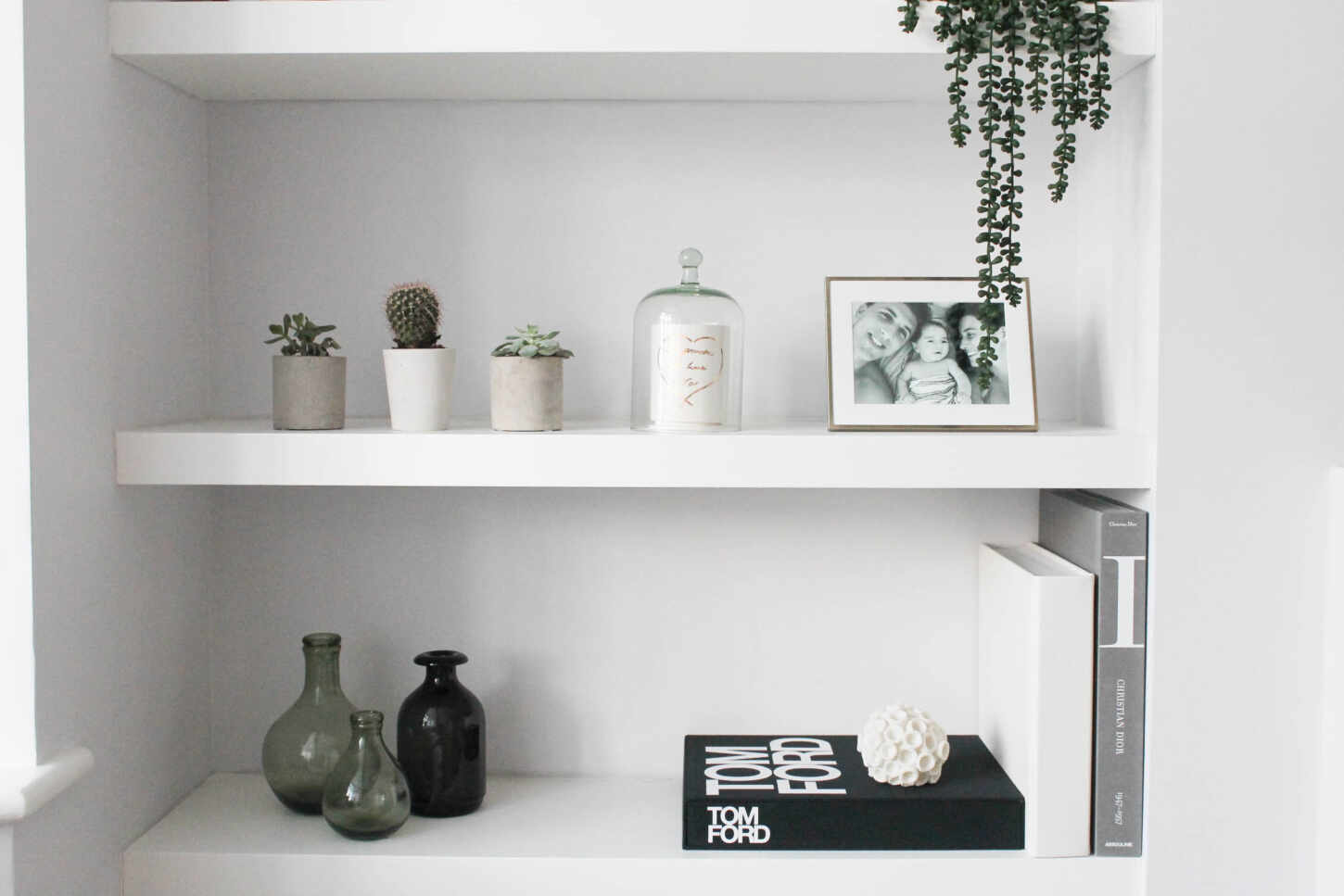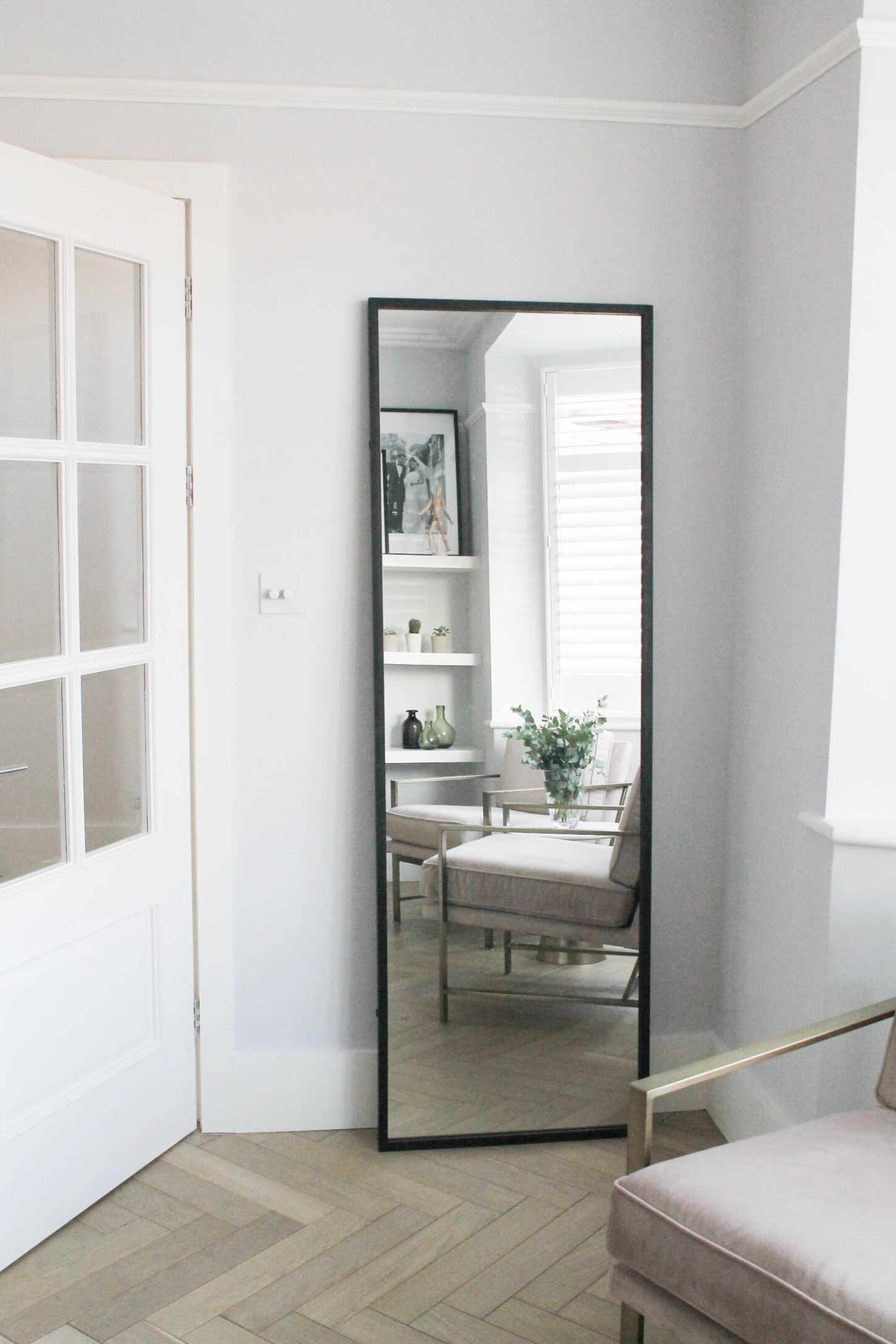 Dulux "grey steel 3" on the walls | Parquet floor (throughout) | West Elm pink chairs | West Elm round marble side table | Graham & Green long mirror | Ikea large photo frames | Abigail Ahern plant | H&M green vases | Kelly Hoppen coral | John Lewis thin gold rim frames
– T H E  H A L L W A Y –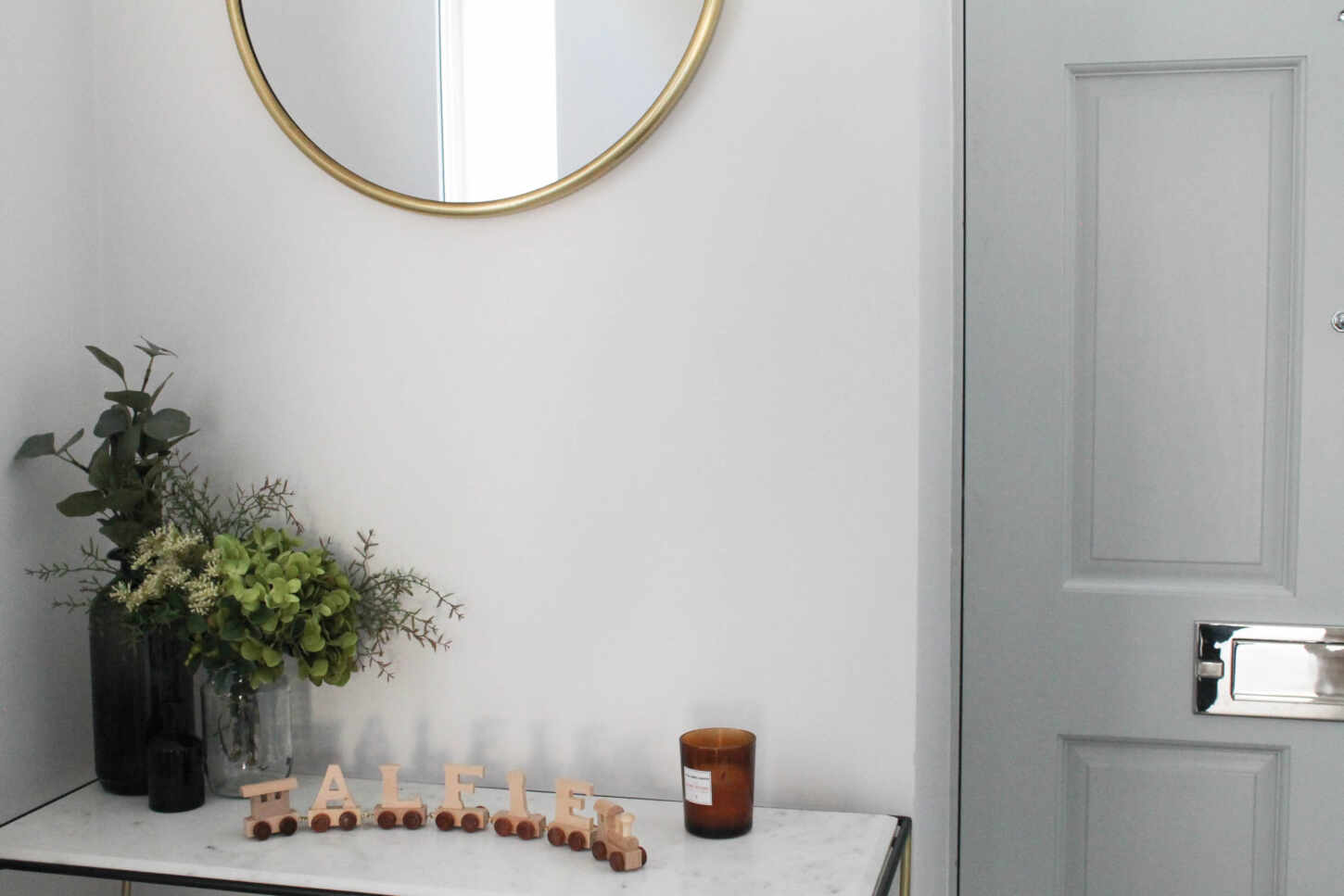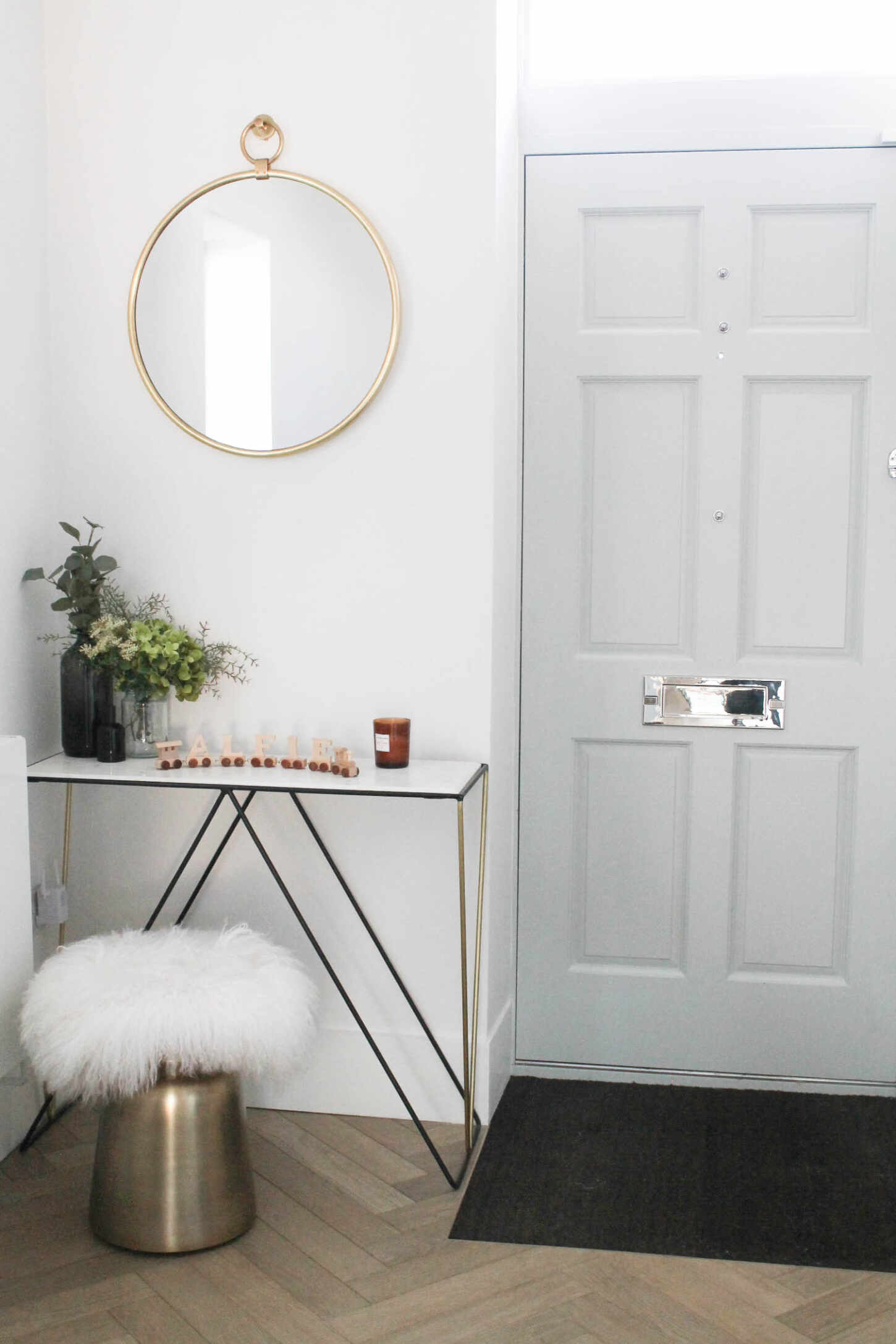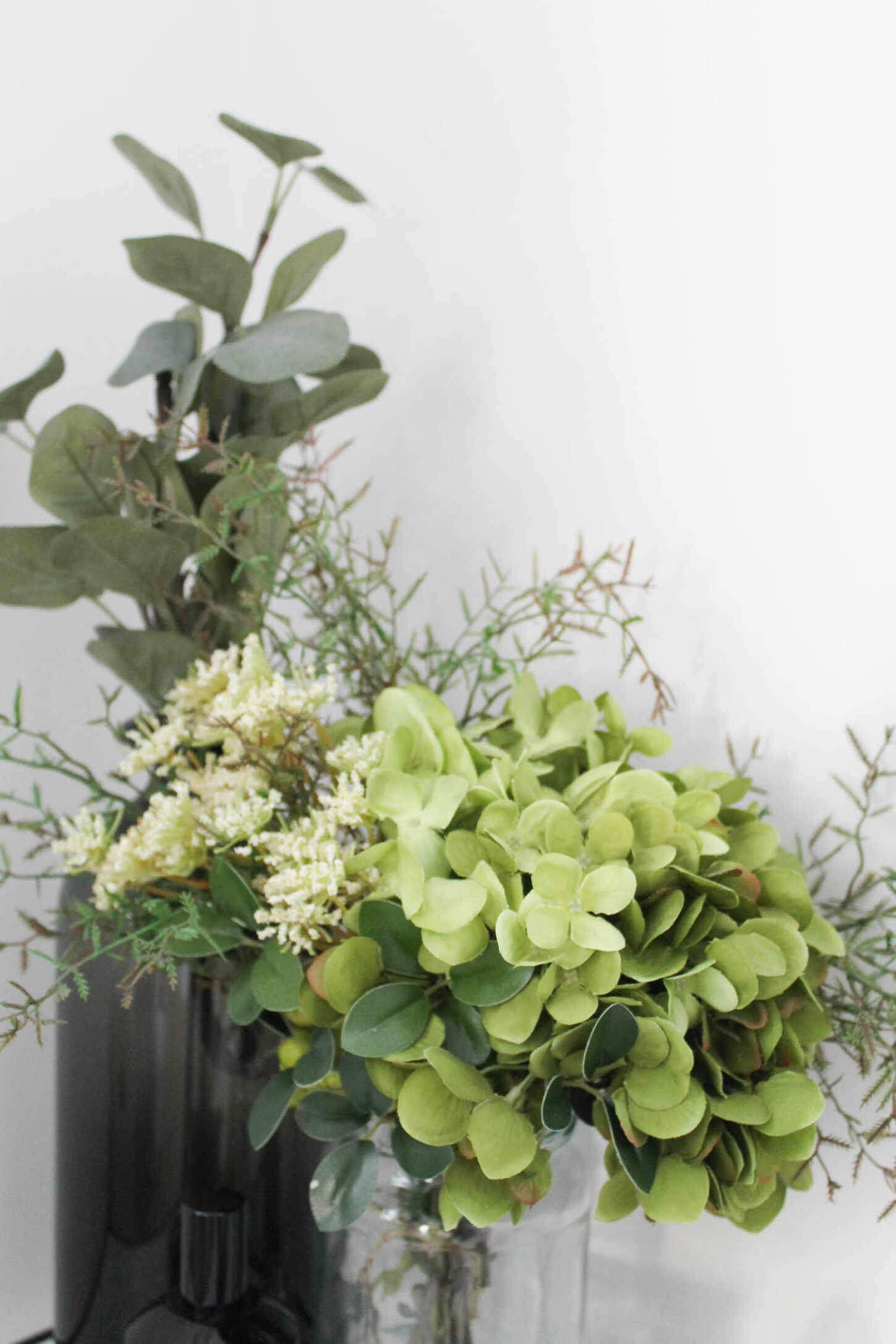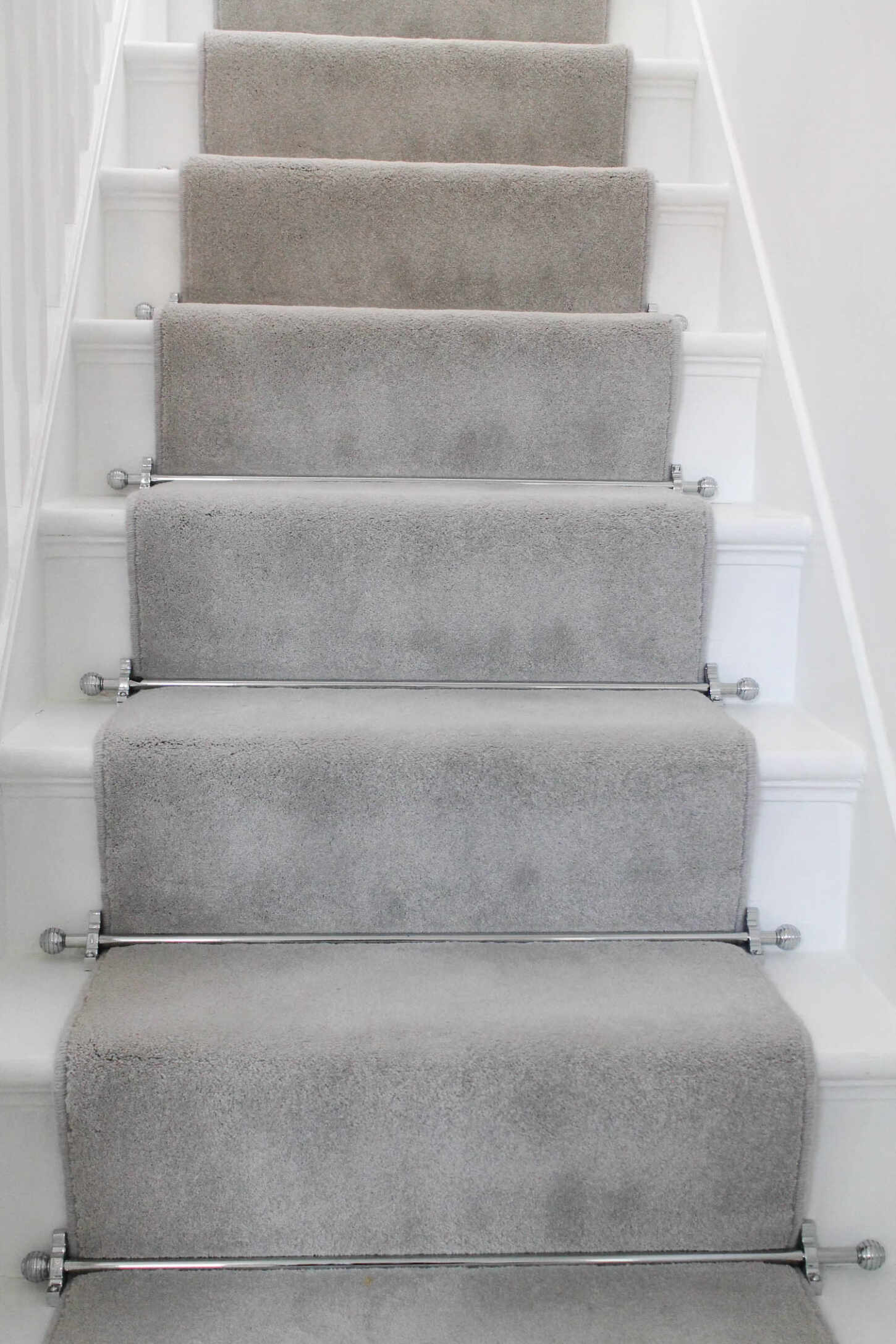 Dulux "grey steel 4" on walls | Graham & Green round mirror | Graham & Green console table | Abigail Ahern faux bouquet | Etsy eucalyptus | Wooden Alfie train | West Elm gold stool | West Elm cushion cover | First Impression "close shave" carpet | Lola James Harper candle | Hotel Costes room spray
– K I T C H E N  &  L I V I N G  R O O M-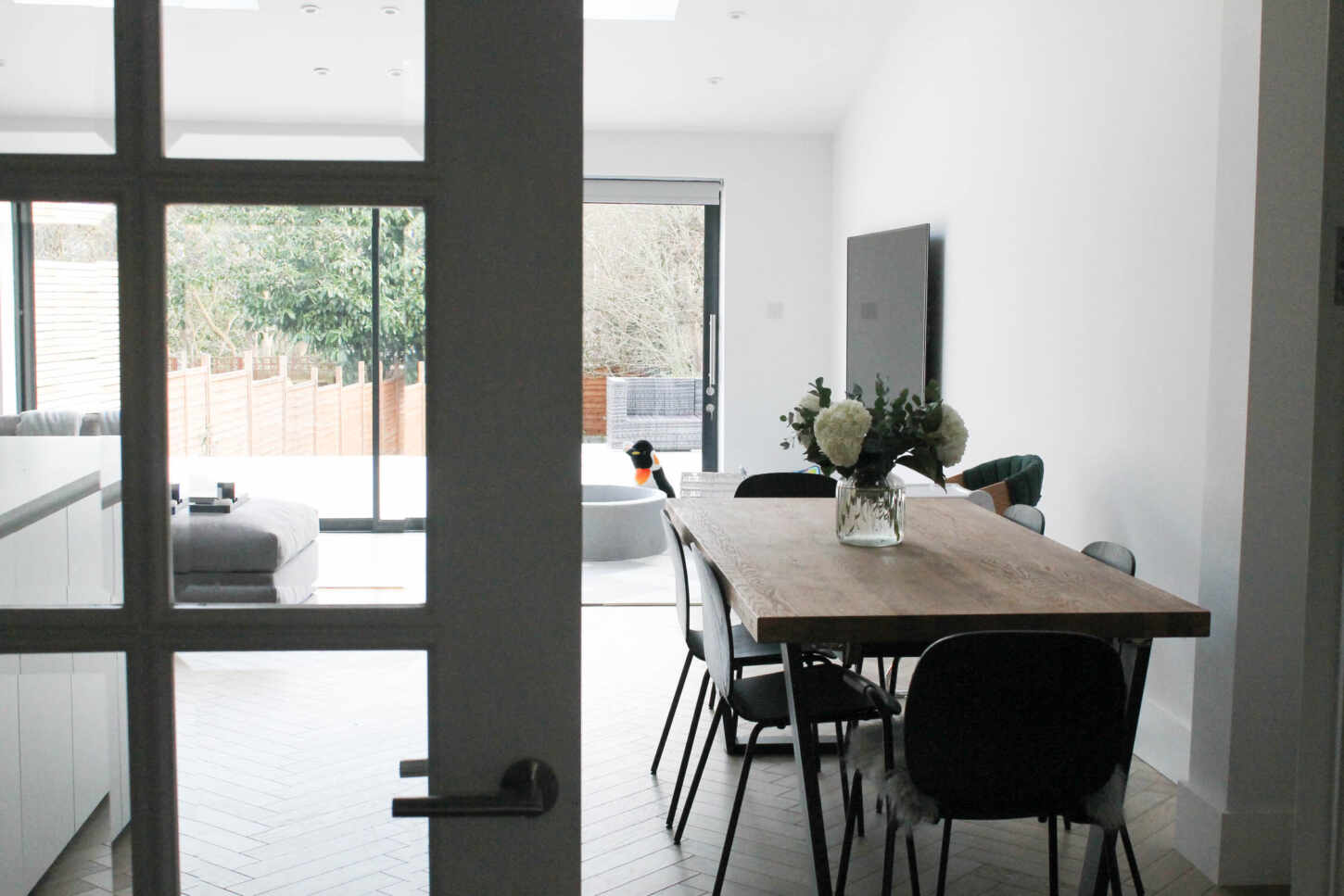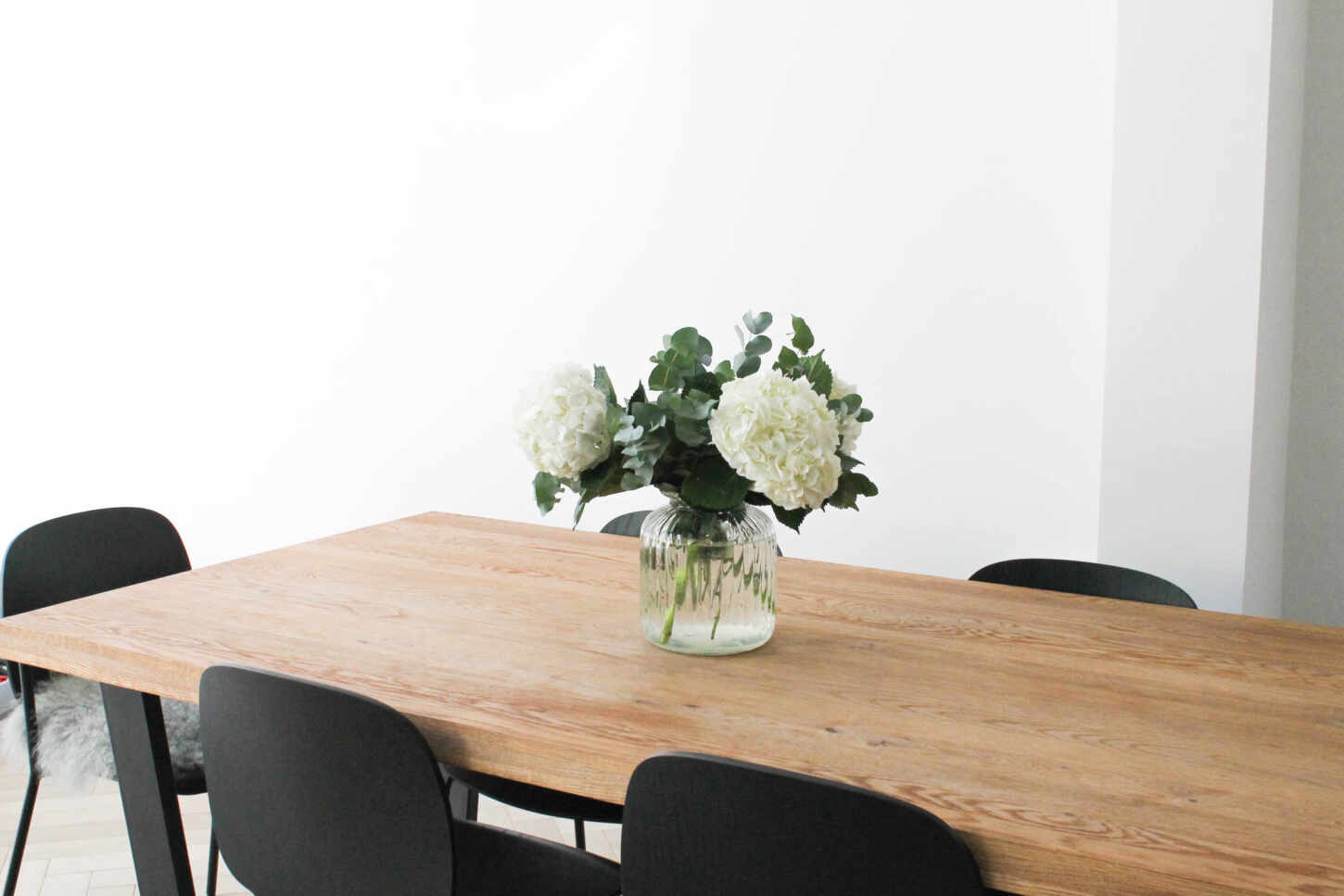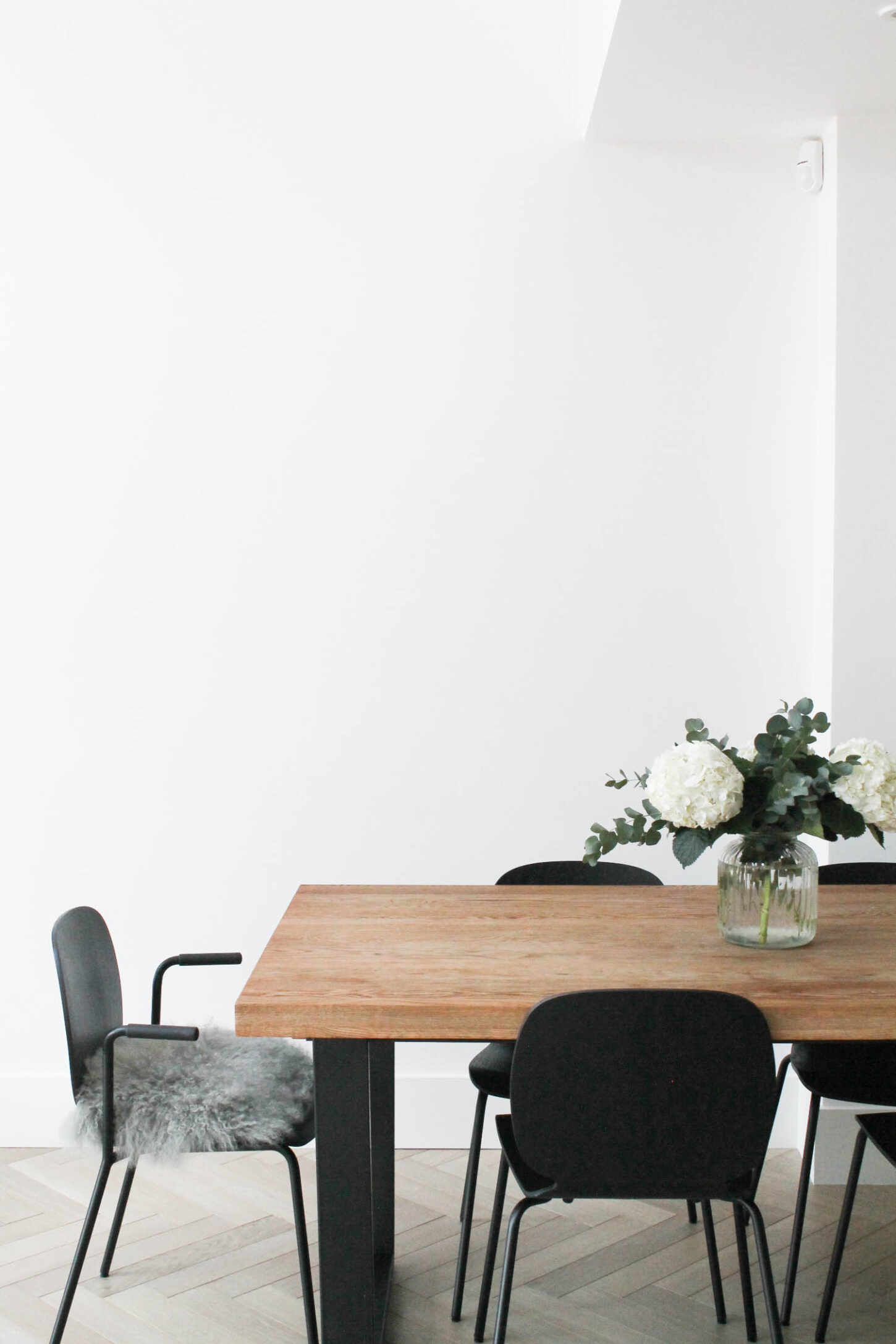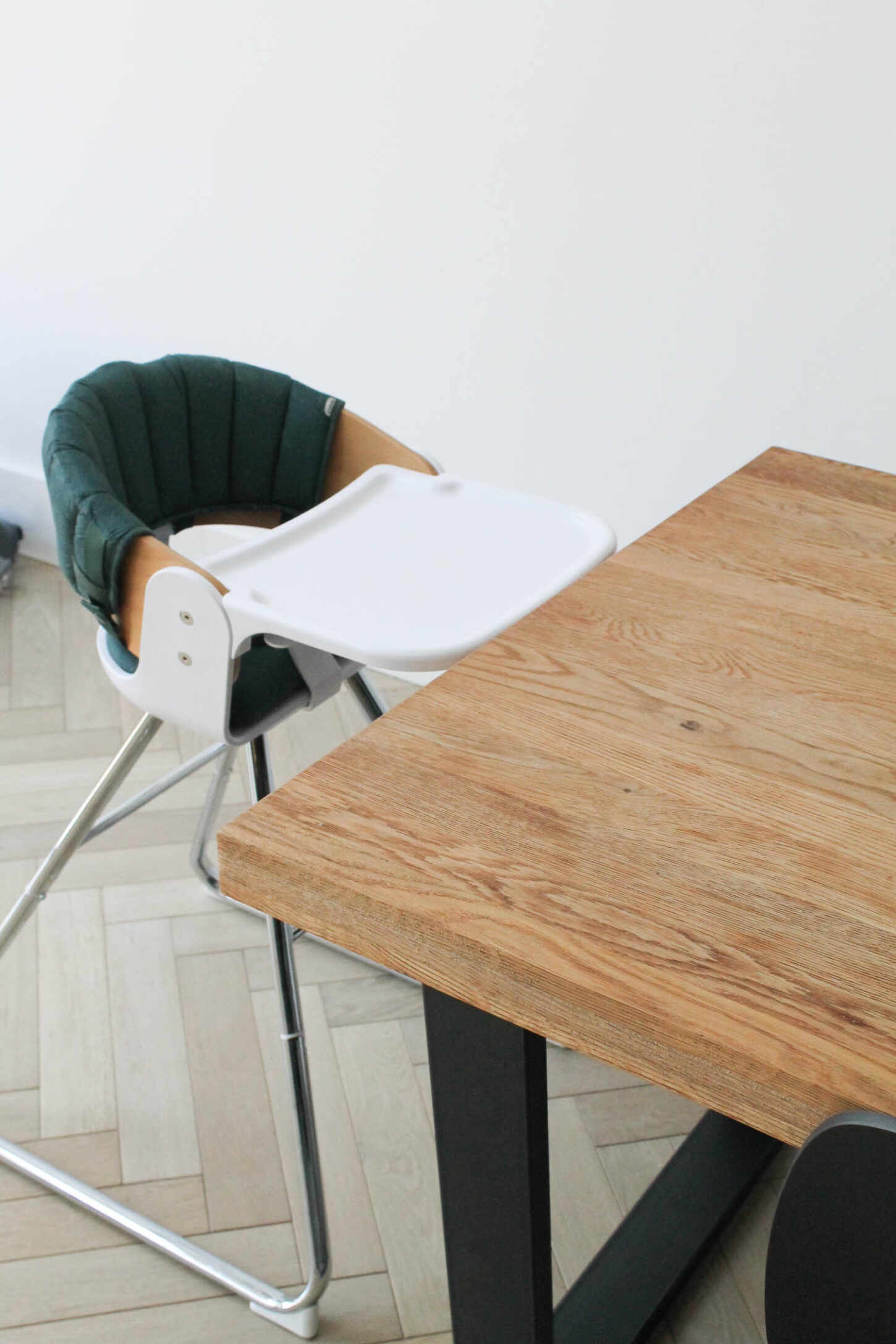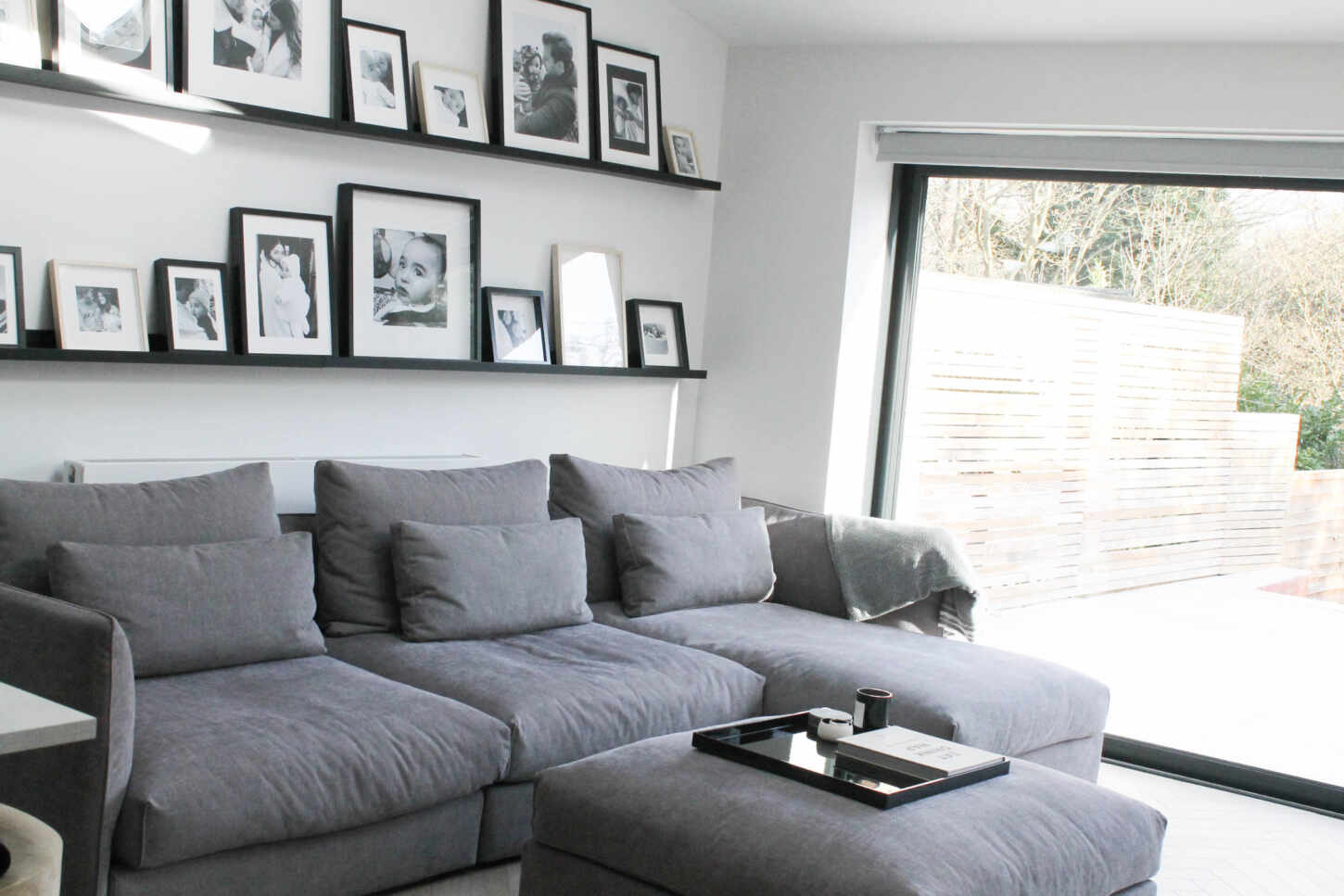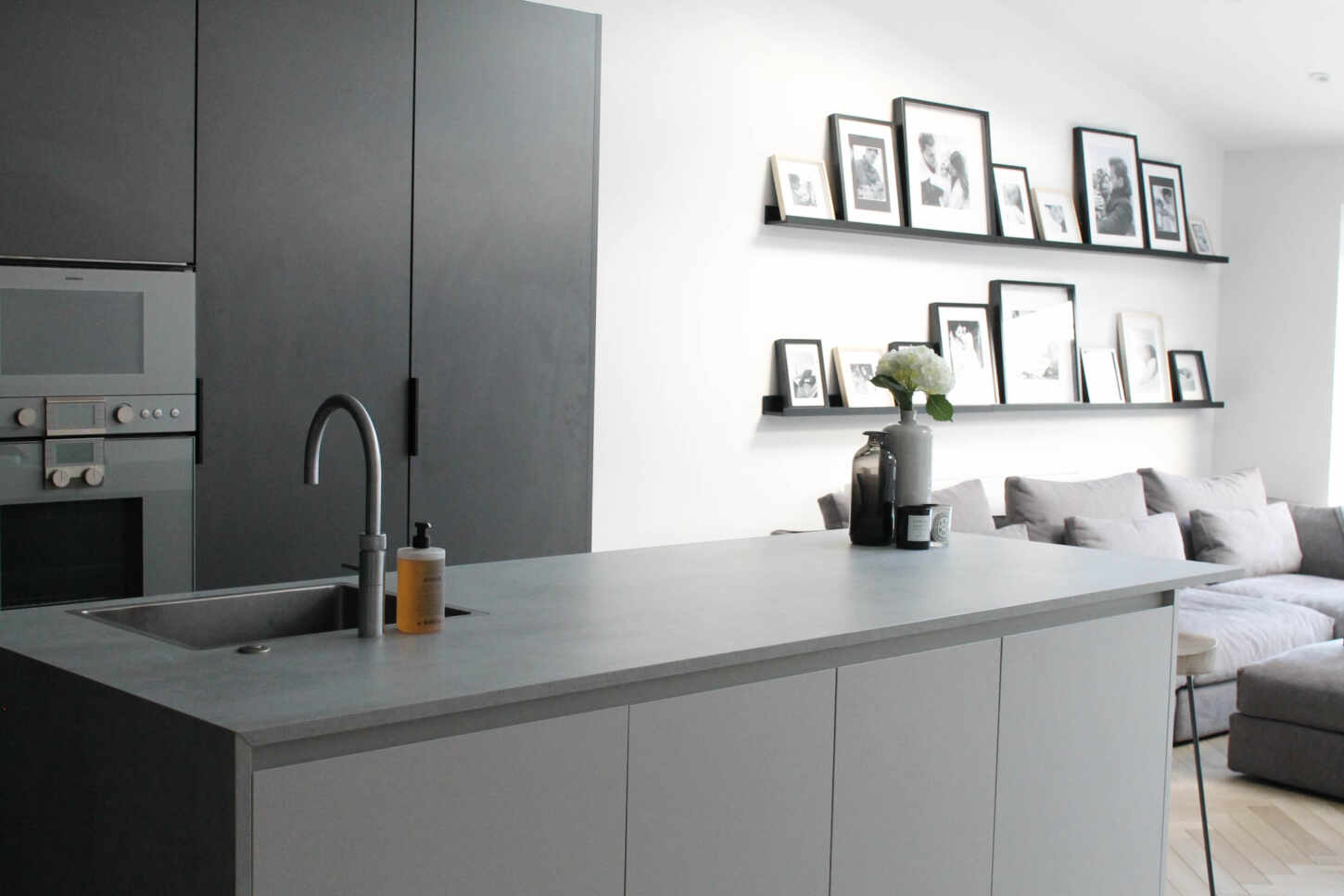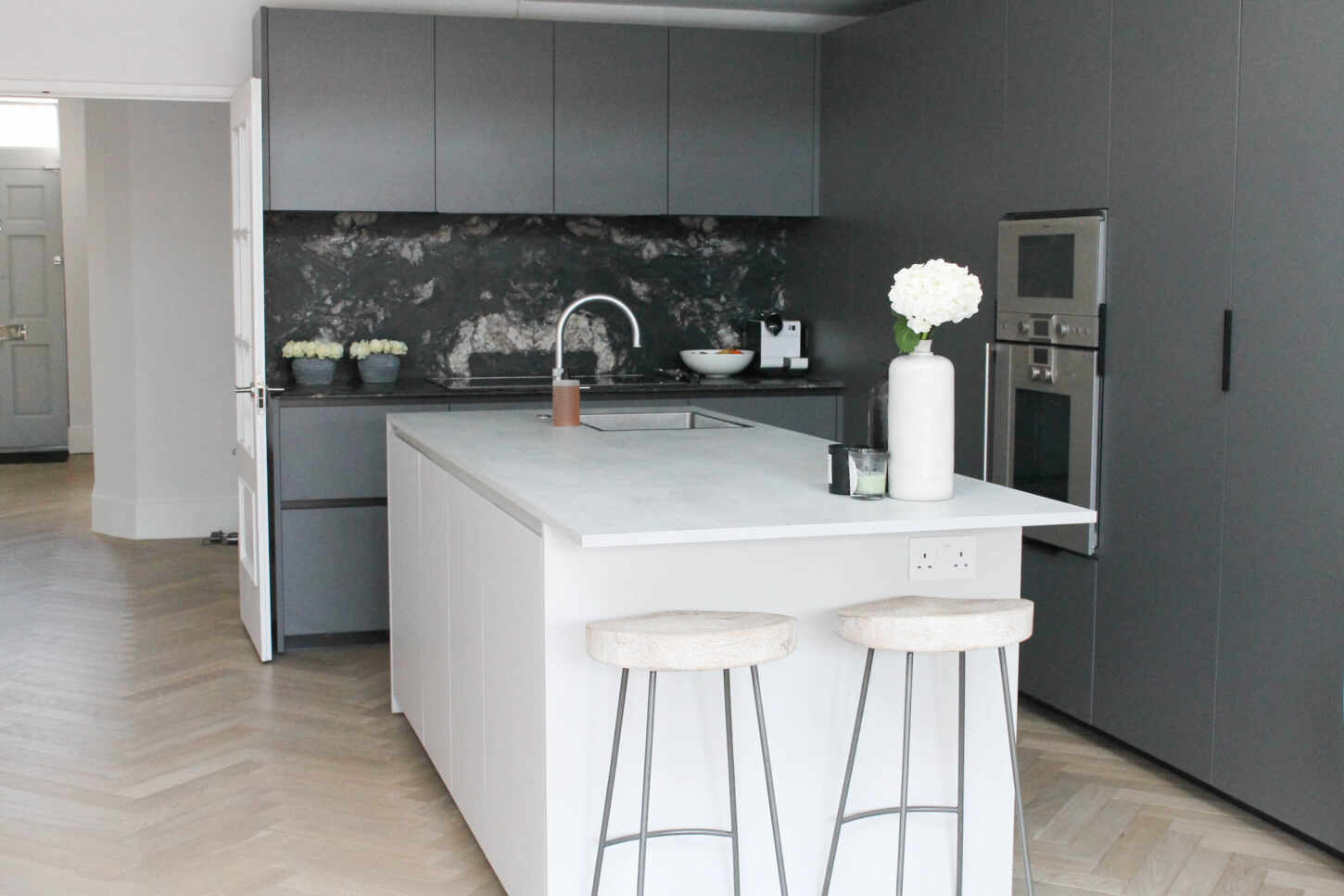 John Lewis dining table | Ikea dining chairs | West Elm cushion covers | iCandy MiChair | Camerich sofa | Nom coffee table tray | Soho House book | West Elm coasters | Byredo candle | Ikea frames | Ikea shelves | Skip Hop foam play mat | Scandiborn ball pond | Personalised piano | Graham & Green bar stools | Byredo hand soap |
– D O W N S T A I R S  T O I L E T –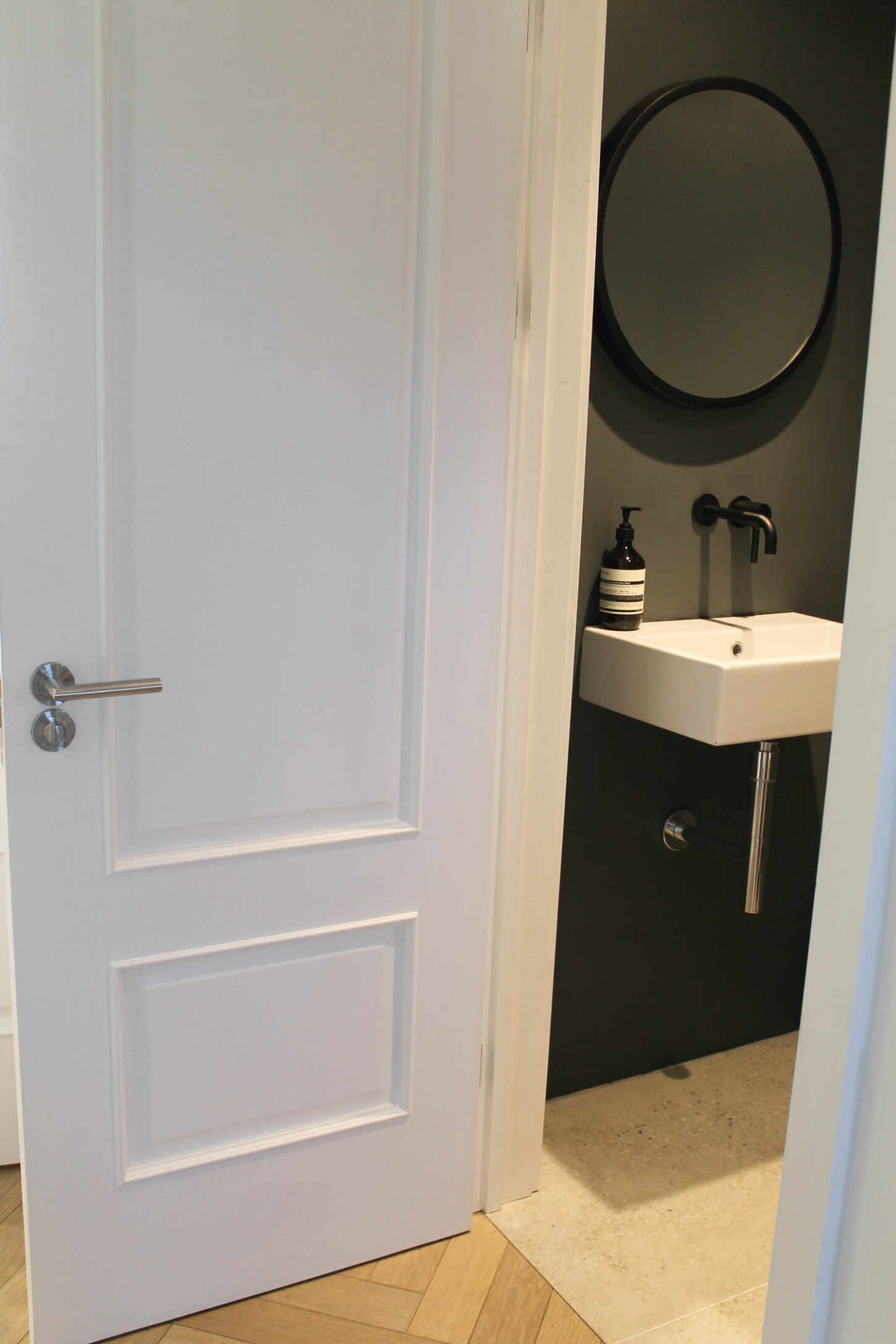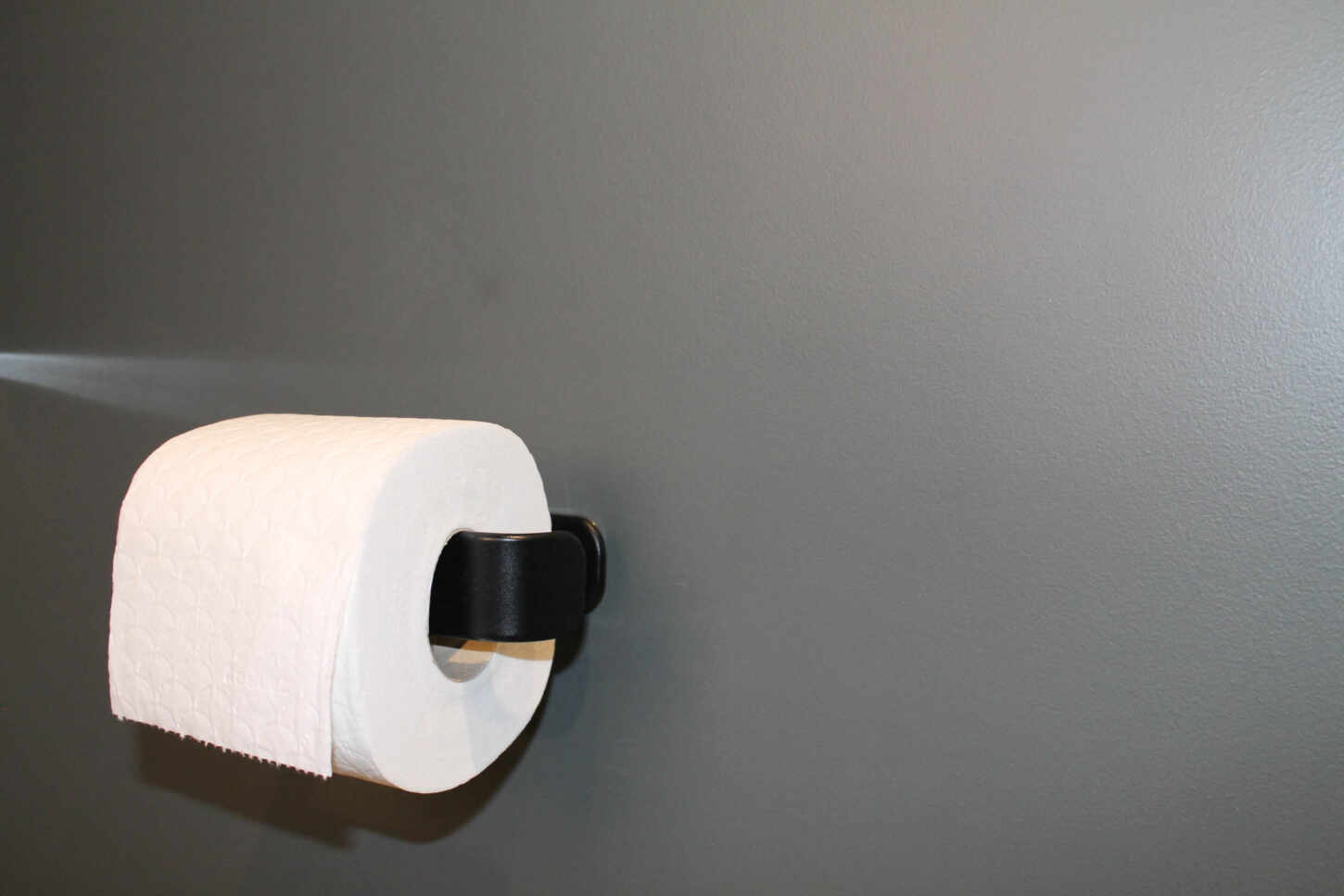 Dunelm black round mirror | Menu towel bar | Menu toilet roll holder | Aesop soap |
– O U R  B E D R O O M –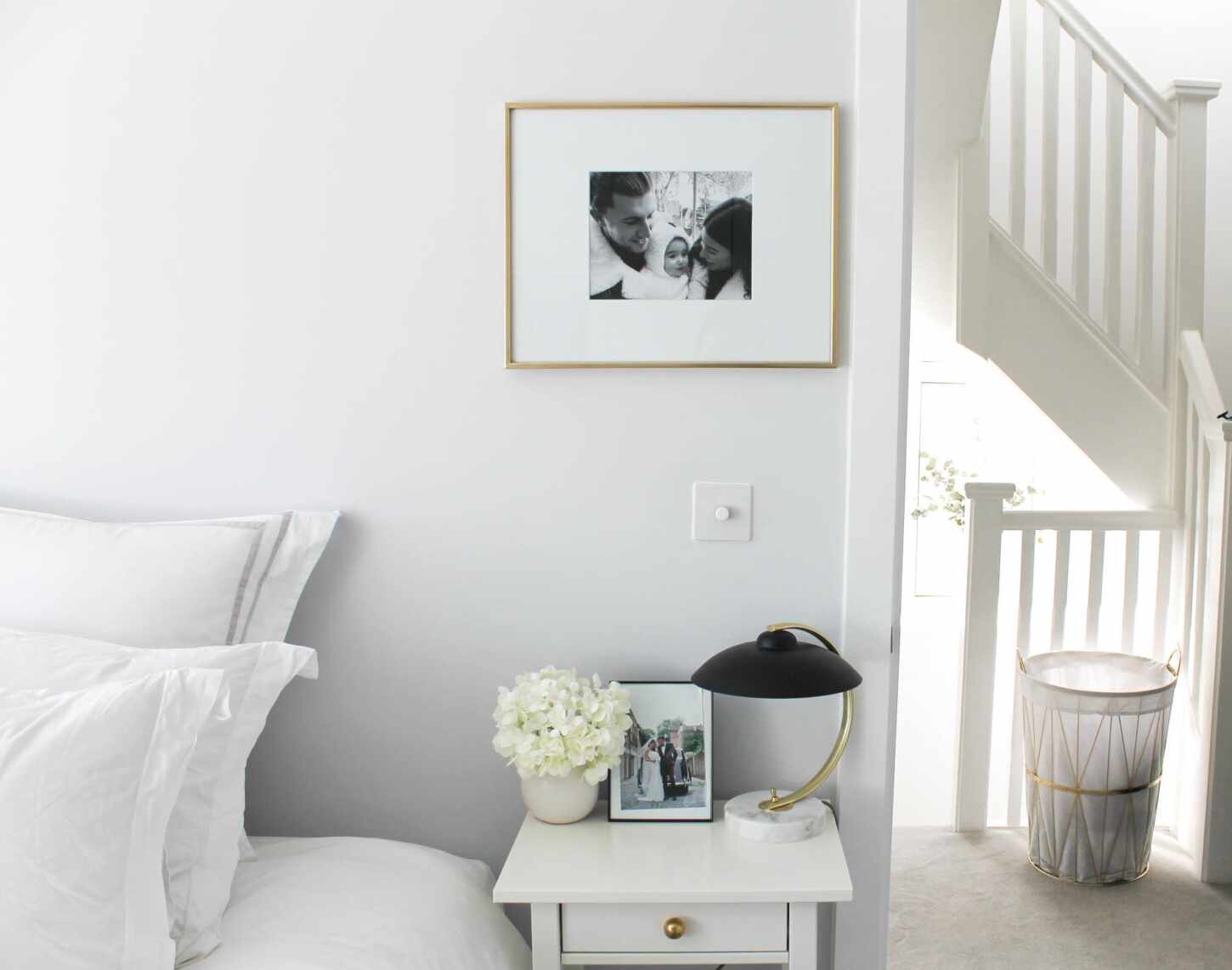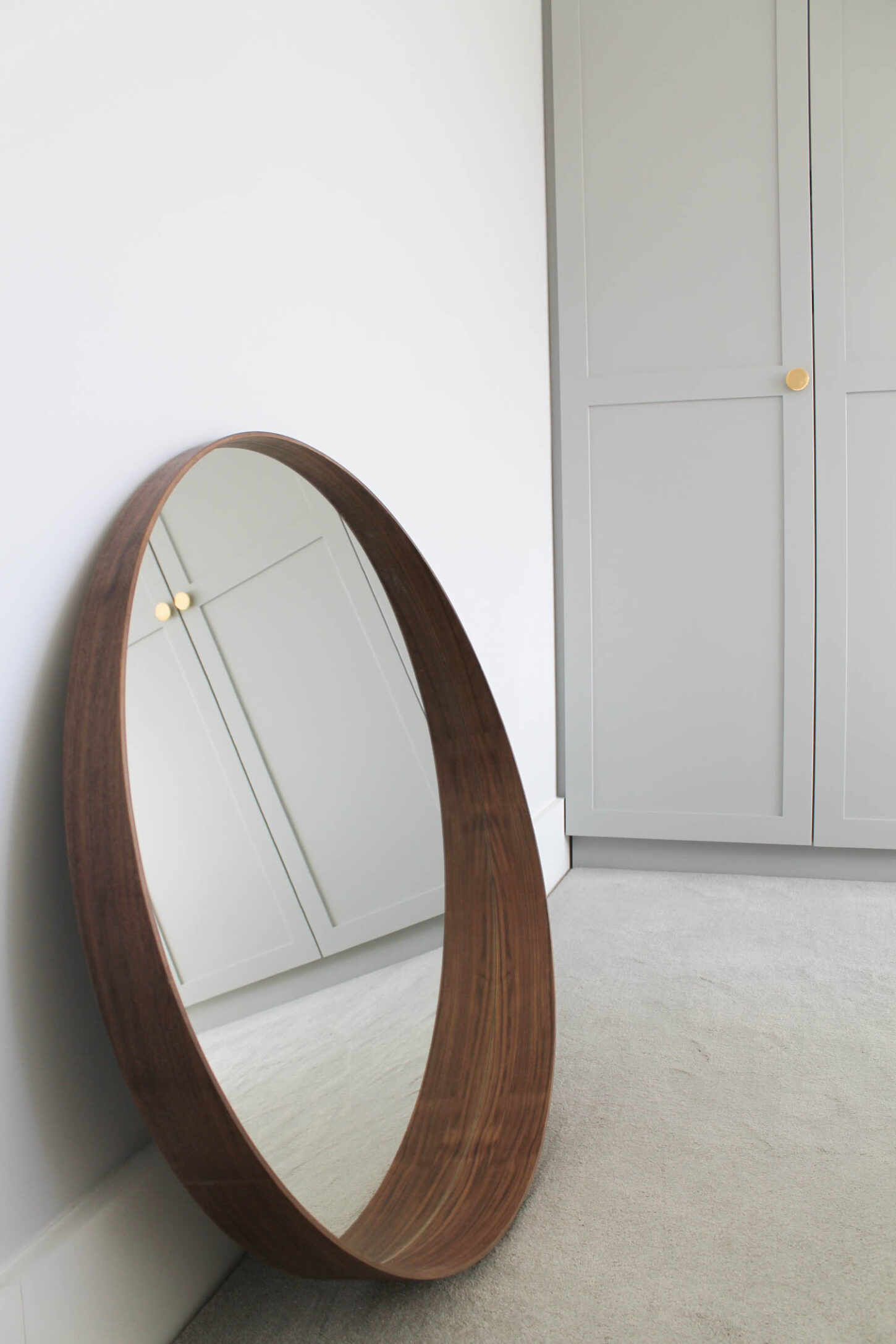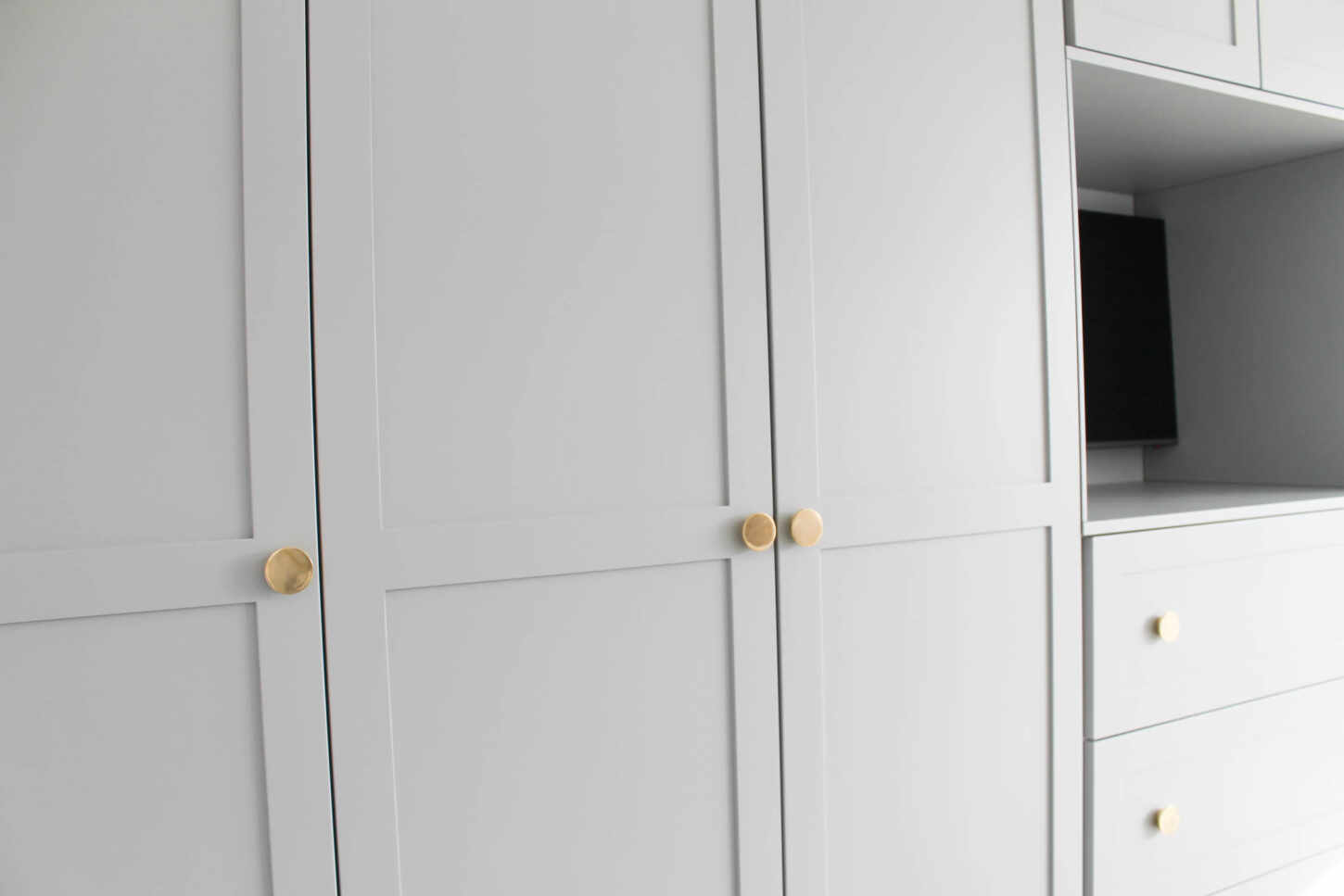 The White Company bed linen | The White Company throw | The White Company textured cushions | Kelly Hoppen suede cushion | Ikea bedside tables | Super Front round knobs (on bedside tables) | Debenhams bedside lamps (similar here) | West Elm white vase | Abigail Ahern hydrangea | Ikea oak round mirror | West Elm wall hung frames | Super Front door knobs (on wardrobes)
– A L F I E ' S  N U R S E R Y –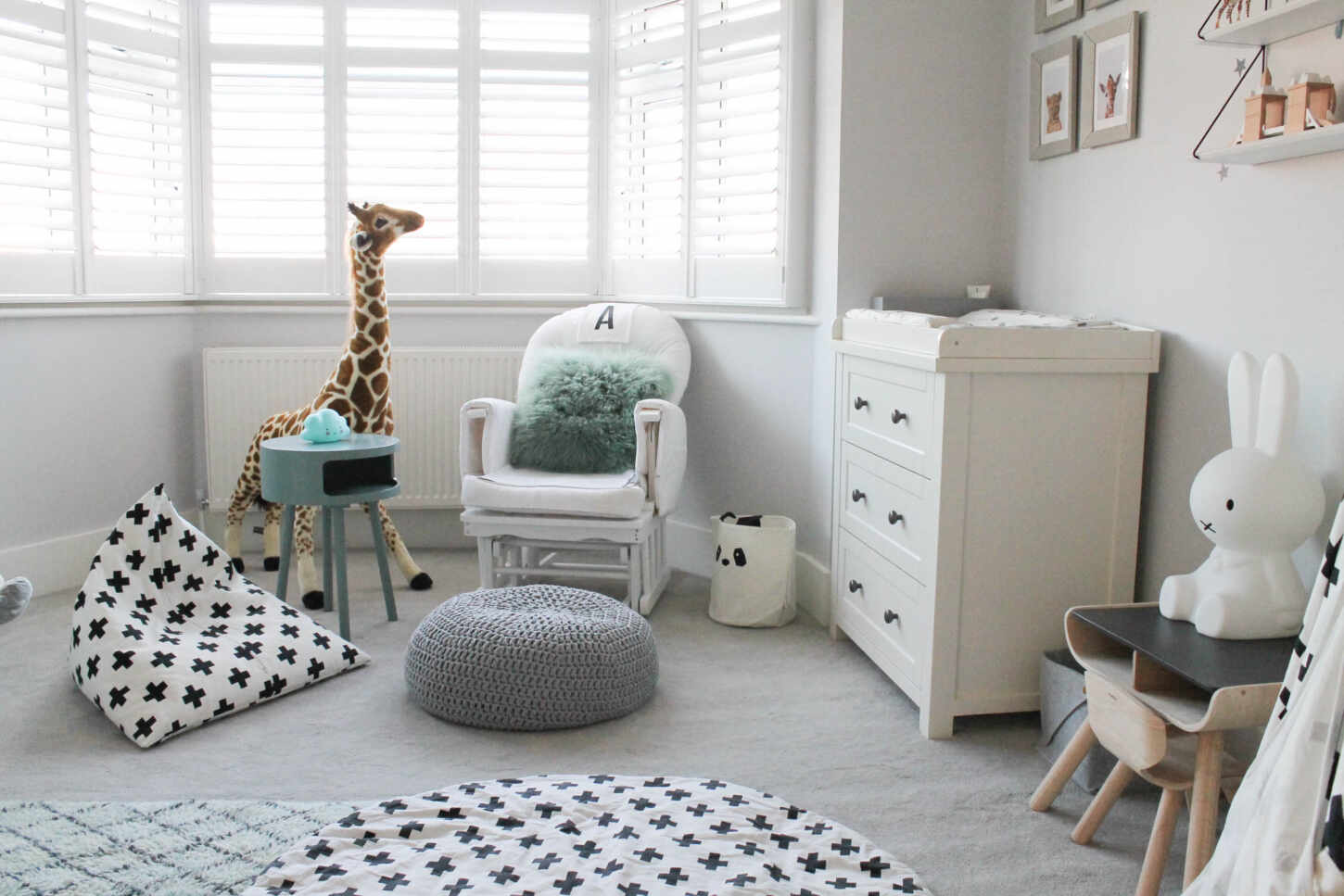 Seventy Seven 84 personalised door sign | Silver Cross nursery furniture | Wild Fire teepee | Wildfire play mat | Wildfire beanbag | West Elm rug (similar here) | Etsy pouf | Habitat side table | Melissa & Doug giraffe | Etsy safari prints | Miffy lamp | Sorens House table & chair | Ikea felt storage boxes | Scandiborn safari wall transfers | Scandiborn shelves | Scandiborn changing mat | The White Company "London Cite Scape" set | Nest heating system | Nest camera | Noodoll bunny cushion | Roscoe Rules print
– M Y  W A R D R O B E –
… Considering this is the longest blog post in history, I thought i would hold back from showing you my wardrobe… for now! Stay tuned over the next few weeks to step inside mine & Sarah's closet where we will be sharing all our storage styling tips!