You may have seen on our Instagram that a couple of weeks ago we did a calligraphy course with Quill London. It was a "beginners modern calligraphy course," slightly different to traditional calligraphy as you can you can have a bit more of a play with the letters, sizes and shapes.
It was in fact Sarah's gift to Philippa for her birthday and was such a dreamy girlie day out. You can imagine the difficulty in buying each other birthday presents….what to buy the girls who have everything?!
Well, an experience seemed like a great idea and with us both constantly admiring people's pretty handwriting, it was the perfect gift.
Set in a quaint road in Islington, the Quill shop was as pretty as can be (take note of the pink DIY chest of drawers with gold handles!), we lucked out and parked right outside and then it was time to switch off for the next two and half hours. There was a small group of us sitting on two tables and everyone was really lovely.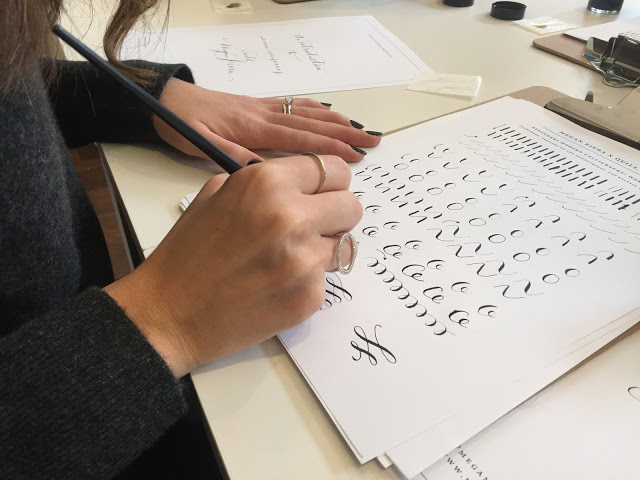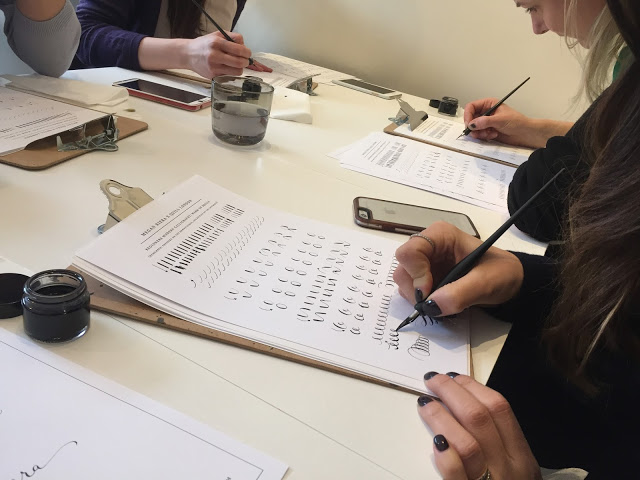 First up we were each given our own equipment – some paper, a pen, nib, and some practice sheets all presented beautifully. (All of which we got to take home with us too.) We were given some instructions and we began with the basics…lines, strokes and squiggles!
Tea and cakes were on hand and we spent the next hour getting to grips with the basics and familiarising ourselves with the nib. It was super relaxing and so nice to concentrate on something other than our phones or computers!
After the initial play around we tackled the alphabet, now this was tricky…some letters were so easy and others like 'G' much harder, but with practice and (some tracing!) we definitely got the hang of it more. Then the real fun started and we could finally put the letters together and write out some words. Obviously "We Are Twinset" was one of them! The lovely Megan who ran the class, showed us examples of how to write out our chosen words and we perfected our copying skills 🙂 We just need to keep practicing at home…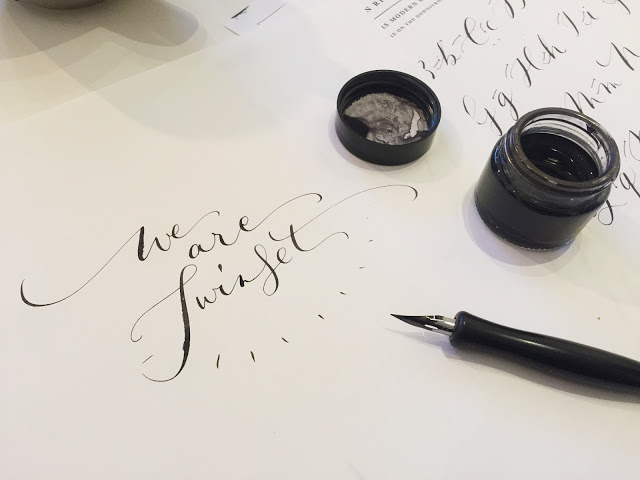 It was such a fun day out and so lovely to do something a little bit different, watch this space to see how our calligraphy skills develop!
Philippa's wearing:
Sarah's wearing: