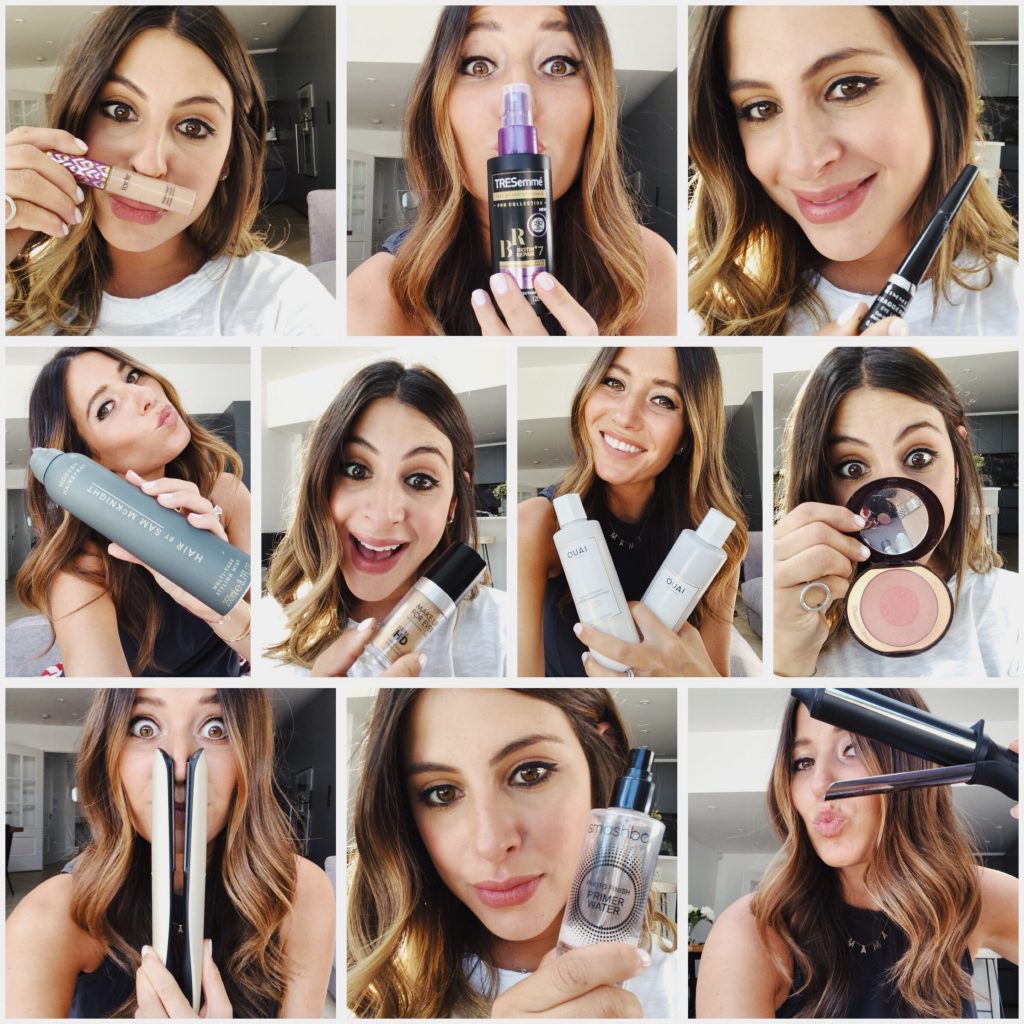 We were asked recently on instagram for our 5 hair & beauty items we couldn't live without & it really got us thinking, so much so we are dedicating a whole blogpost on it! However rather than bore you with 5 hair & beauty must-haves each; we thought it would be far more interesting for Philippa to share her hair must-haves (she is slightly more into hair than Sarah!) & for Sarah to share her beauty go -to's (she is a little bit more experimental than Philippa in the make up department!) You can imagine though, a lot of our must haves are the same!
First things first, it really got us thinking what are the products we absolutely love and can't live without?! We are very lucky to be able to try out lots of new products when they launch but we are really particular with what we recommend & use as we both suffer from problem skin at times as well as both of our hair going through dry, awkward stages throughout the year. So we can honestly say that we have thought long and hard about this post & it is genuinely products we love & use religiously!
P.S Obviously we use more than 5 items each but what are the ones we would recommend time & time again & the ones we'd buy time & time again? Well here they are ladies….
– P H I L I P P A 'S   5   H A I R   H E R O E S –
Tried & tested…the BEST shampoo & conditioner – The Ouai smooth shampoo & repair conditioner
Ok, so let's start at the beginning… prepping & priming your hair with a good cleanse. I was never convinced that changing up your shampoo & conditioner would make a difference to the quality of your hair. Well, that was until i tried out these two products. I have to be honest here, during 9 months of pregnancy my hair was AWFUL; it was split, dry, short and just generally is really bad condition. I used Nioxin system 6 as soon as i had Alfie and from the moment i used it my hair was totally transformed. It's quite an intense shampoo to use over a long period so after my 3 month course of Nioxin I needed something that would keep up the good work but in a lighter, more gentle way. And that's when i started using The Ouai and I will never look back!
Primer for my hair – Tresemme biotin & repair primer protection spray
Back in the day, the thought of using a primer/heat protector on my hair freaked me out! My hair is quite fine so I always just felt that any added product would make my hair flat & greasy. What I didn't know, is that using a hair protector before styling is absolutely crucial and to be honest I think that's also another reason why my hair has felt in good condition recently. We were recently sent a few products from the new Tresemme Biotin range and I have to say, this protection spray is really quite amazing! It doesn't make my hair feel greasy at all and I actually think it also helps to keep my waves after styling… it gets a thumbs up from P!
The quickest, smoothest straighteners you'll try – GHD Gold Pure Gold Styler
Because of this insane heat wave we've had over the last few months, I've been letting my hair air-dry (another great tip for getting your hair in good condition!) The only downside to this, is I full-on look like Monica in the Barbados episode, which isn't good for anyone! There's straighteners, and then there's straighteners and these babies are absolutely incredible! I never like the idea of having to go over my hair a thousand times to get it straight, but these bad boys leave your hair silky smooth with just one swipe down!
My must-have wave wand – GHD curve soft curl tong
Believe me when I tell you… I used to be absolutely horrific at styling my hair!! I used to watch YouTube videos over and over again but for some reason it just would never click. Or I would manage to do really good waves on one side but for some reason not on the other! I started to use these GHD tongs and the rest is history and I'm not exaggerating! Honestly, they make it so easy to be able to create soft waves (hence the name) and my hair always feels salon finished after I use them. If you haven't checked it out yet, Sarah and I uploaded a YouTube video ourselves on how we create our waves so take a look here to see how I use these exact tongs. You might need to play it on repeat but you'll get there in the end!
Finishing touch – Hair by Sam McKnight modern hairspray
As I mentioned above, my hair is very fine; I have a lot of very fine hair so I've often found that using a thick & heavy hairspray just weighed my hair down which in tern meant that waves never lasted. That's exactly why I love this product. Firstly it smells incredible (which is a huge bonus for me!) but most importantly, it is a lovely light mist that somehow even though you cant feel it on your hair, it holds a curl so well! He's a clever guy that Sam McKnight 😉
– S A R A H ' S   5   M A K E   U P   M U S T   H A V E S –
The primer of dreams… Smash box 'photo finish water primer'
Now I've got to be honest, I was originally sent this a while back to try but I have since bought it twice more – it is an absolute game changer & every friend I have recommended this to can agree! Now for those that have no idea why they need to use a primer let me explain…it preps the skin for your makeup & helps your makeup stay put. AND this one 100% works. I have actually always used a primer to help keep my makeup in place as it always used to go patchy by the end of the day. What I've learnt through trying so many is that I can't bare anything too creamy or thick as it seems to add too much moisture to the skin which then makes my makeup apply weirdly and almost fall off! So when I tried this light weight water primer it was love at first sight. A couple of spritzes which I gently rub into the skin to hydrate & prep before apply my make up & hey presto I am good to go for the day.
The wonder concealer…Tarte Cosmetics 'shape tape' in colour light medium, & medium
Another must have for me is a concealer & this one is a true god send. Sadly I've always suffered from dark circles & under eye bags from my crazy early mornings working as a stylist at ITV & they have definitely got worse as I've got older so a hardworking, long-lasting concealer is a daily necessity & unfortunately they are hard to come by. Now what I love about this concealer is that is seriously covers but without being so thick that it creases. It's also not totally matte so leaves you with a bit of a glow which keeps skin looking fresh.  I think it's also meant to be a great concealer for contouring Kim K style, but that's not really my bag! I use it under my eyes as well as to help cover some redness around my nose and chin. It is to easy to apply & it also comes with a blending sponge which I love as it helps give that flawless finish.  It's only available on QVC in the UK which is a little annoying as you can't try the colours anywhere, however I was quite lucky & bought a light/medium for winter & a medium for summer when I have a tan and they work perfectly for my skin tone.
The flawless foundation…MakeUp Forever 'HD Foundation'
As you can tell I'm all about the base and this foundation base in quite something. It was recommended by my friend Brooke who is a make up artist & I have never looked back. It's literally everything you could want in a foundation & for me, that's great coverage but no too thick, moisterizing, easy to apply, long lasting & not cakey! And you thought it didn't exist right….well it does! This is probably the most recent addition to make up bag as I've only been using it about 8 months but I don't think I will ever look at another foundation again, (dramatic right!) It gives that flawless finish but in a natural way & I always get complimented on my skin which never used to happen!
Liquid eye liner goals…Rimmel London 'exaggerate liquid eye liner' – now for £4.20!
I have been using this eye liner since I was 17 & I have NEVER found anything I prefer. I like to call it idiot proof (LOL!) as the felt tip end makes it so easy to apply that feline flick. If I can do it then anyone can! I know there are so many fancy liners out there but this for me does everything it needs to. It's super quick & easy to apply (the felt tip pen end means you can start with a thin line and build it up easily) it lasts all day & doesn't end up on your eye lids either (that's a pet hate of mine) AND it's also easy to remove (another pet hate of mine when you literally have to make your eyes bleed to get off your eye makeup!) I use it on my top lash only for my signature flicks & I think I'll still be wearing this when I'm 80!
Blushed to perfection..Charlotte Tilbury cheek to chic blusher in 'esctasy'
I've love blushers & for me after a quick all over bronze (a product I'm not that fussy with) I'm all about the rosey cheeks. I feel like a good blush makes you look alive & just finishes off your makeup. However a bad blusher or the wrong colour can ruin everything! When it comes to the colour I actually quite like pinks & peaches (I know some people have a preference for one or the other) & this is why this Charlotte Tilbury 'cheek to chic' is so good..it's a peachy / pink! What's more is that it's not just a flat colour, it's two tone & there's a technique to applying to it! The shimmery shade around the outside of the palette is what you apply all over your cheek bones as the base, then the bright colour in the middle of the blusher for the apple of your cheeks to make them pop! Another thing I love is that it works just as well in the day time as it does for a night out as the product can be built up too. Plus because it's quite shimmery it never goes patchy at the end of the day. Have I sold it to you yet?!