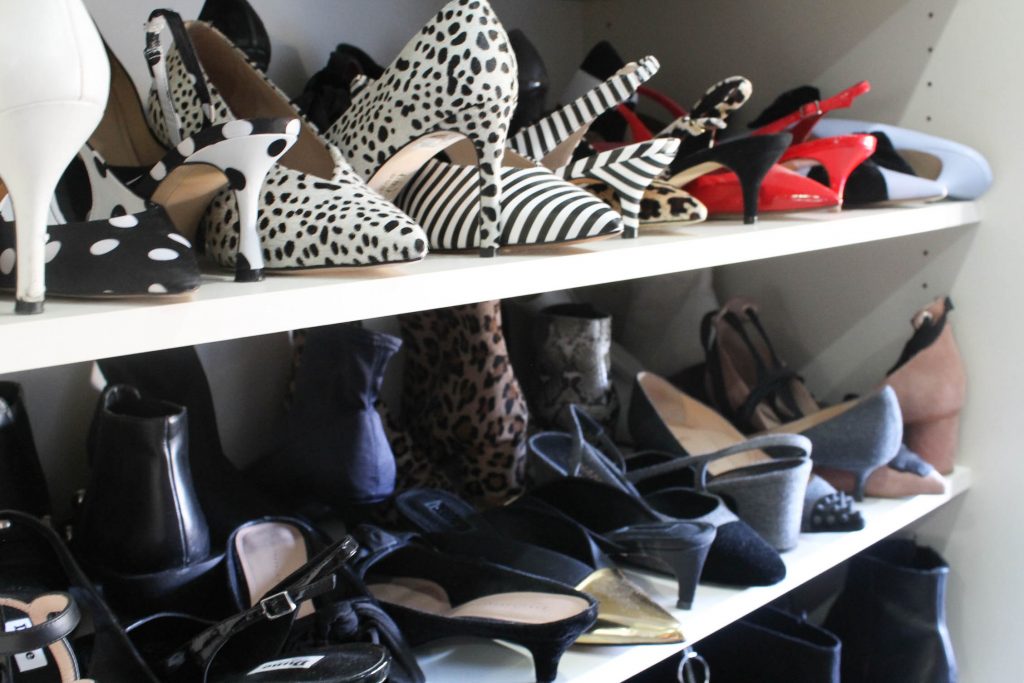 We've had lots of requests to see inside our wardrobes and you can still catch our instalive from yesterday where we filmed inside my wardrobe. It's still on instagram (until 230pm today!) but if you don't catch it here's a sneak peak  as well as some of my organising tips!
-written by Sarah-
When I moved into my house a few years ago one of the first things I did was convert a spare room into my wardrobe. Having worked in the fashion industry for 12 years I've collated quite a collection of items and I needed them to have a home! I can't bare clutter and I really wanted an area where everything could have its own space. I sourced a carpenter to make the shells from MDF, the wardrobes are all open plan with no doors as I find this works best for me. I prefer most things hanging as I'm not the best folder and found in the past that this gets messy quickly! Alongside the wardrobes I have some simple shelving for shoes and accessories and a chest of drawers for items like underwear, pjs and gym stuff which I made my own with some simple brass knocker style handles I found online.
First tip – ORGANISATION! For me I have to have an organised wardrobe, I'm always rushing and getting dressed in a hurry and need to know where everything is and hence I like everything to have it's particular place. I separate everything into areas of the same thing and then into colour order, it honestly makes life so much easier when you're looking for particular items and it helps you see exactly what you have.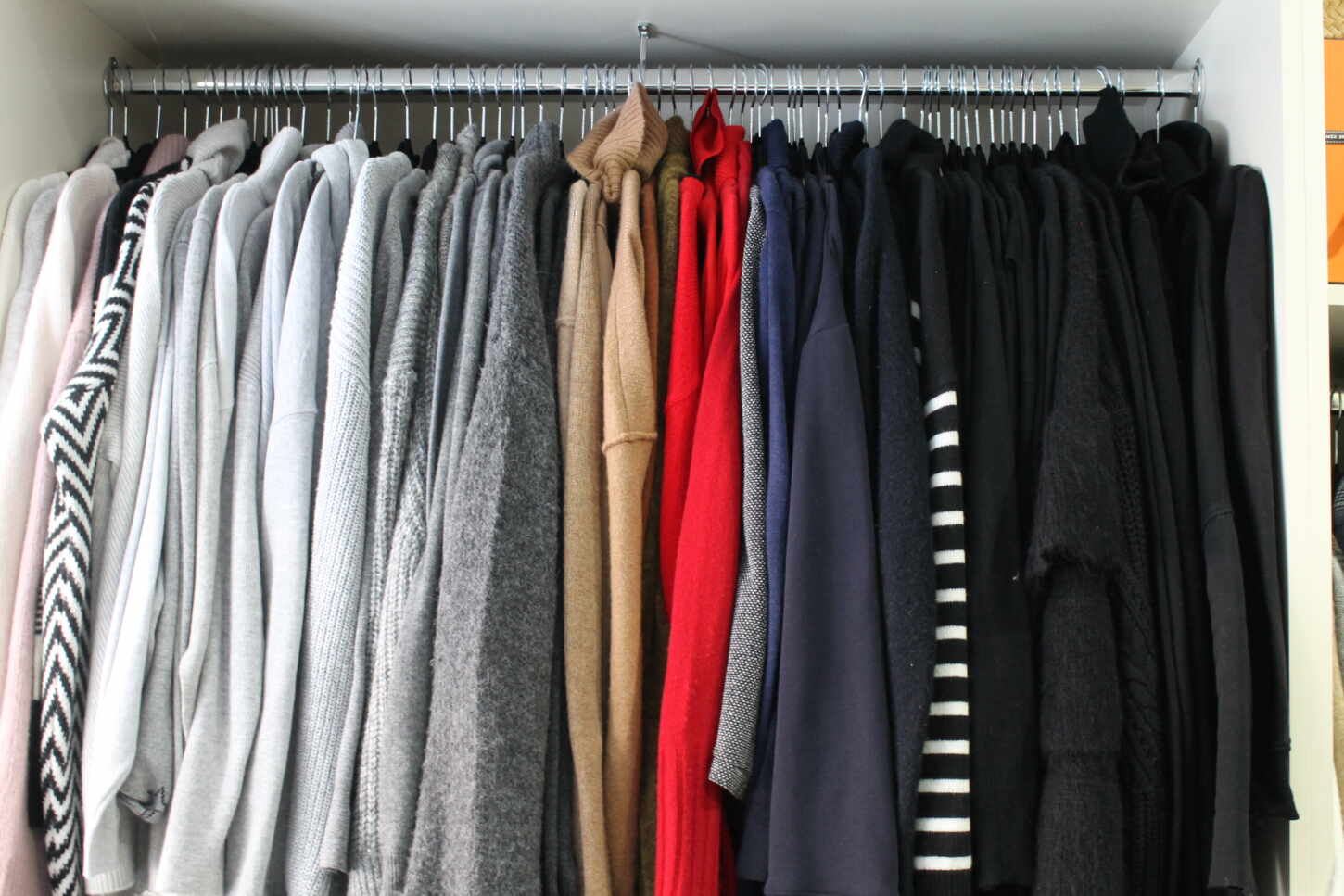 HANGERS – I always use the same space saving hangers, they create more room for all your things and keep everything looking neat. As well, they are made of velvet meaning those silky, lightweight items don't slide off. Don't even get me started on wire hangers (they ruin clothes) or those chunky changes that take up so much space!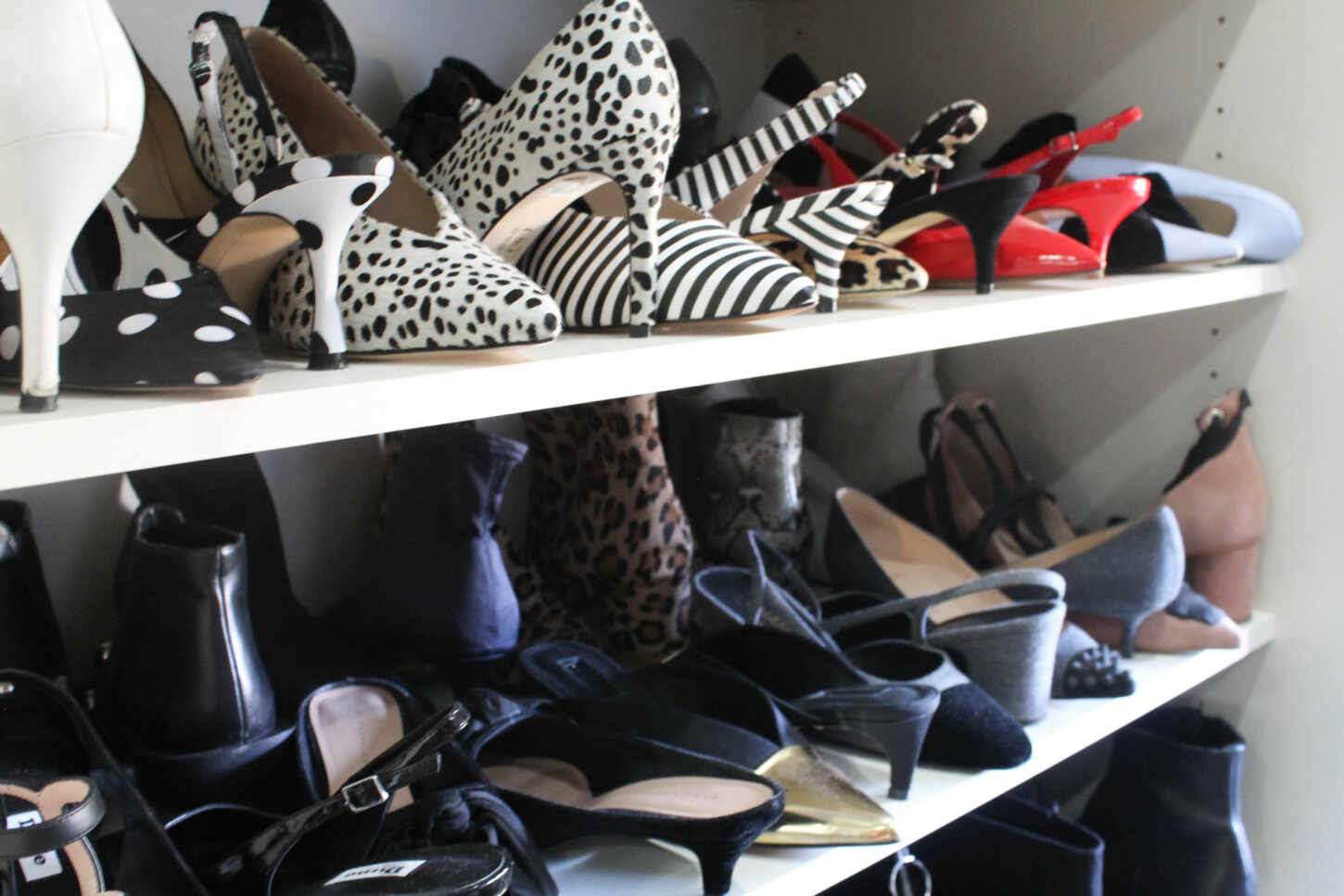 SHOES – I have a bit of a shoe fetish so I take pride in organising these to perfection. Again I prefer to have them out rather than in boxes so I can see what I have and it means I actually wear them all more. They can however get dusty being out in the open so invest in a feather duster (from the pound shop!) and give them a dust from time to time! In terms of organising I prefer to store them with one facing forwards and one facing backwards to save space and then again in order of shoe style and then colour.
BAGS – bags are also lined up into size and style. I used to keep them in their dustbags but everytime I wanted one I ended up having to pull them all out to find the exact one – which was so annoying! This way I can see them all and I find that I use them all a bit more as well! This was a tip from Philippa (she'll be sharing her wardrobe soon as well.)
OUT OF SEASON ITEMS – I also keep my summer bits in boxes and on the top shelf so they are easily accessible when I go away but high enough up so they don't get in the way of my everyday items. Clear plastic boxes (again from the pound shop!) are a perfect easy way to store items you don't use regularly and they stack away in corners really well. Another top tip is to stuff your wicker and beach bags with items as well, this helps them keep their shape rather than getting squashed. I keep all my holiday toileteries in them.
Now a little highlight of few of my faves…
Dior shoes 
Chloe 'nile' bag
Favourite scents  and always the perfect way to accessorise your dressing table 🙂
From L to R
Trish McEvoy 100 | Laboratory Perfumes Amber | Maison Francis Kurkdijan Paris Bacarat Rouge 540 | Jo Malone English Oak & Hazelnut | Jo Malone Oud & Bergamot
A few wardrobe staples that we chatted about during the instalive…