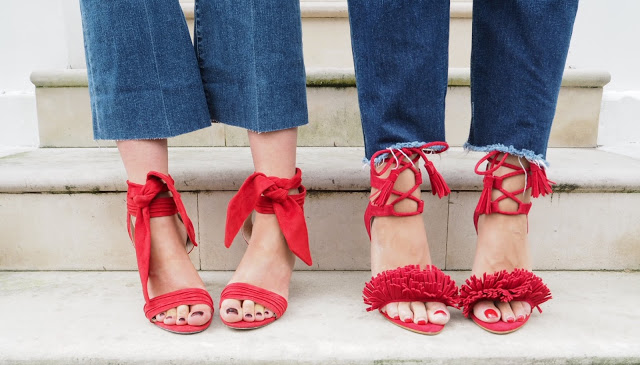 For the shoe obsessionists out there (like ourselves) it's a bumper shoe post today on WAT. We're sharing our must-have new editions to our Summer wardrobe as well as breaking down all the key styles for SS16 that you should be shopping. As every season goes, there's a lot of shapes & styles to choose from and so many colour ways – but don't worry we've done all the hard work for you – we've raided the shops and styled up the most versatile shoesies we think you need to know about. Sorry for your bank balance ladies… 😉
Jimmy Choo heels (left) | Public Desire heels (right)
–THE MULE–
The mule is probably one of the shoes we've taken to the most this season – starting with a surprising controversial yellow pair that we snapped up from Mango a few months back (sadly they've sold out now). We love that they are as good with denims for the day as they are with a pair of culottes for a night out. Better still with the mule, there are so many colours & heel heights in the shops, we're pretty confident you can find a pair to take you anywhere. Now let's talk about this Topshop pair…THE BOW!! Remember our post a few weeks back about our bow obsession? Well these are a mule & bow combo – heaven! And lets not even get started on that heel 🙂
Philippa's wearing (left):

— THE POWER PUMP —
We're suckers for a statement flat and they make up a huge part of our wardrobes…as do stripes! So when we saw these in Dune, we knew that they were coming straight home with us. We love the little ankle strap that looks great with a pair of frayed denims. We're pretty sure the monochrome palette is the easiest to wear (N.B they literally go with anything & everything, casual & smart) & they will definitely work hard in any wardrobe. Check out some more statement flats on our wishlist below.
Philippa's wearing (left):Zara jeans (similar here) | Dune shoes | Jimmy Choo bag (similar here)
Sarah's wearing (right):J Brand jeans | Dune shoes | Jimmy Choo bag (similar here)

— THE TWO TONE SLINGBACKS —
Now for those that didn't see our Snapchat & Insta showdown a couple of weeks ago – we made quite an investment with some twinning Chanel slingbacks. We know that they were a serious splurge so we wanted to show you the next best thing…from River Island! In the original Chanel colour combo coupled with that versatile heel height that are comfy enough to wear all day and night. We don't know what it is but there's just something so chic about adding a two tone heel to a simple outfit. You can thank us later!
Philippa's wearing (left):
Sarah's wearing (right):

— THE BLOCK HEEL —
We're always on the look out for a heel that doesn't want to make us cry at the end of the night. Maybe it's our age lol but we're particularly careful of this on holiday when we're partial to doing a little bit of drunken walking back to our hotel…we just can't seem to hack the pain of a stiletto! That said, we've been leaning towards a lot of chunky block heels recently. Anything with an ankle tie is an instant winner for us and we love a neutral style for the summer as well. Check out the gold detail in the heels – these gems have got everything going for them and they look so expensive!
Sarah's wearing (left):H&M shirt | Zara jeans | Gucci bag | River Island heels
Philippa's wearing (right):H&M shirt (similar here) | Frame jeans (similar here) | Chloe bag | River Island heels

— THE LUXE FOR LESS HEEL —
There's a time and a place for a stiletto heel and whilst we've lusted after the Alaia's for a while (one day!) we were pretty wowed when we stumbled across these on Boohoo for £25 & believe it or not, they are actually quite comfy! As well as these Alaia inspired must-haves we've found a few more dead ringers below for when the budget doesn't stretch…
Sarah's wearing (left):