We've just got back from the most amazing weekend at the Four Seasons Hampshire. We feel rested, relaxed and revitalised and we can't wait to share our experience with you. Not to mention we've eaten like we've never eaten before (lots of food pics to follow!)
We set off on Saturday morning (in the pouring rain) but that wasn't going to dampen our spirits. With our hectic, back to back schedules we really needed some time out and with it only being an hour away from London it was the perfect pitstop for a short but luxurious break. 
Whilst we didn't engage in much activity, it was mainly eating, sitting and card playing that made up the majority of our weekend, there was so much on offer for those that were up for some adventure. Horse riding, archery, fishing and shooting are just a few of the things we would definitely love to come back and try when the weather is a little bit kinder.
The hotel is a former country estate and everything about it is grand and ornate, including the back drop of rolling hills and the divine four legged friend called Oliver who welcomed us as we arrived. The service was wonderful (the staff couldn't do enough for us) and our rooms were one of the best we've stayed in, spacious, comfy and with a free-standing bath that was heaven! In fact the sheets were so soft it felt like we were sleeping on silk, we now just need to work out how we can get our hands on them! We even slept past 9am which we're pretty sure we haven't done all year 🙂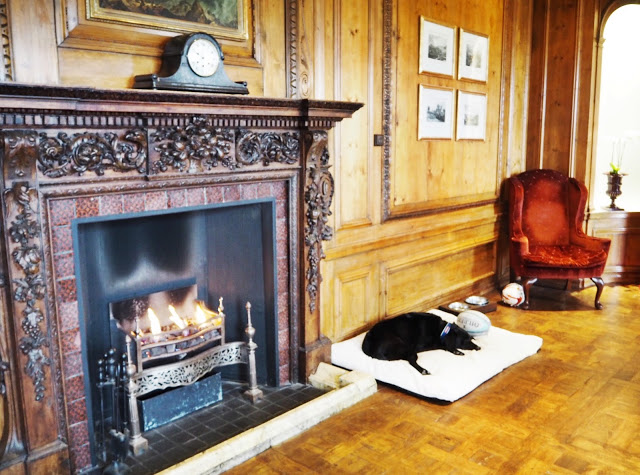 We felt very lucky to experience the incredible Four Seasons spa which let us tell you was everything we expected and more. From the fresh cucumber and orange water found in the relaxation room to the appropriately named spa rooms, 'serenity' and 'vitality' it was utter bliss. 
Sarah experienced 'The Sodashi pure radiance facial', essentially a tailor made facial, that left skin feeling refreshed, brightened and like new. Philippa had the 'Sodashi signature body massage' one of the most luxurious treatments that totally de-stressed and is a real treat for anyone that needs to unwind.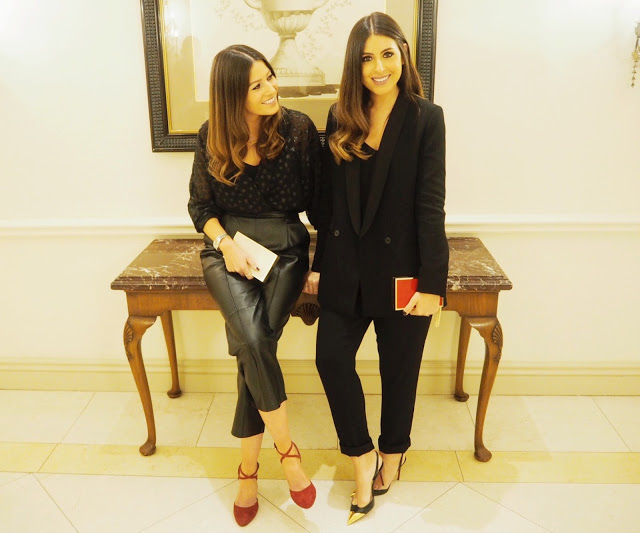 Our night time looks…
Philippa's wearing:
Sarah's wearing:
If there's one thing we came away from this weekend, it was stuffed! The food was incredible and we didn't stop for the full 48 hours! Upon arrival it was fresh camomile tea (served with a yummy chocolate chip cookie) and then a light lunch in the spa restaurant 'Cafe Sante'. For the afternoon we nibbled on scones, almond milk hot chocolates and then headed for dinner at 'The Bistro' which was delicious. We gorged on everything from macaroni and cheese with truffle to warm chocolate fondant!
Despite being told not to eat a big breakfast on the Sunday morning (we had the Farmer's Market lunch booked at 1pm), it would have been rude not to have tried the breakfast buffet! It's safe to say the pastries were as good as they looked, but it was definitely a rookie error to be such piggies first thing…Our husbands, who tried all five of the sausage varieties also confirmed that the breakfast was better than it looked!


After a long walk to work off breakfast, we headed to the equestrian centre to look at the gorgeous horses. Thankfully it wasn't raining on Sunday and our mid morning walk was just what we needed to make room for our epic lunch.


Philippa's wearing:
Reiss coat | Reiss knit | L.K.Bennett bag | Reiss scarf | Topshop jeans | Adidas trainers


Sarah's wearing:
Reiss coat | Reiss knit | Whistles trousers | Reiss bag | Adidas trainers | Reiss hat
The Farmer's Market lunch was one of the best roasts we've had. The selection of starters, sides, roasts and not to mention the cheese and dessert buffet, complete with pic and mix stand was out of this world and we will definitely be back for a Sunday lunch soon. Take note, the mini sticky toffee pudding which we then topped with mini chocolate chips was insane!
Basically the hotel was the perfect place to turn off. Even for just one night away, we felt relaxed and it was the first time in a long while we genuinely chilled. We all said it felt like we had been away for week! If you fancy a luxurious weekend of R&R and to be made to feel like kings and queens then the Four Seasons Hampshire should be top of your list.
Rates start from £290 inclusive of VAT on a room only basis, based on 2 people sharing.